Poona College Celebrates World Radio Day With National Level Poster Competition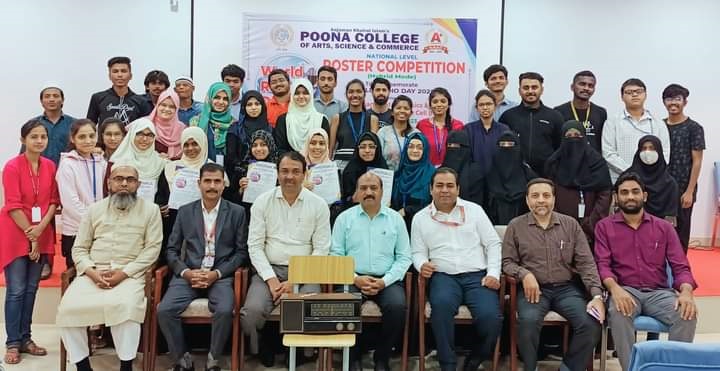 Camp, 13th February 2023: Poona College's Department of Physics hosted a celebration for World Radio Day, which is marked each year to recognize the significant role radio plays in our daily lives and in society as a whole.
The United Nations General Assembly established this day in 2012, building upon the legacy of the first International Radio Conference in Geneva in 1974. February 13 was selected as the day for this celebration to commemorate the establishment of the United Nations Radio in 1946.
The Poona College event commemorated World Radio Day with a National Level Poster Competition, which aimed to promote awareness of the importance of radio and its contributions to society. Students from various colleges participated in the event, creating posters that highlighted the significance of radio as a medium of communication and information. The event was a great success, with a large number of entries and a high level of creativity and originality.
The competition was judged by a panel of distinguished individuals, including academics, artists, and experts in the field of radio. They evaluated the posters based on their creativity, originality, and effectiveness in conveying the message of World Radio Day. The top entries were awarded prizes, and the winning posters will be displayed at the Department of Physics and various other locations across the city.
The event also featured talks and discussions on the history of radio, its technological developments, and its impact on society.
Speakers highlighted the role of radio in the dissemination of news and information, the preservation of cultural heritage, and the promotion of education and social development. They also discussed the challenges faced by radio in the digital age and the opportunities for innovation and creativity in the future.
Overall, the World Radio Day celebration at Poona College was a great success, emphasizing the vital role of radio in society and encouraging students to think creatively and critically about its potential. By promoting awareness and appreciation of radio, this event will help to ensure that this important medium continues to play a central role in our lives and in the world around us.
Join Punekar News Whatsapp Group, Telegram, Instagram And Twitter  For Regular Update about Pune City And Pimpri-Chinchwad