Pravinkumar alias Balasaheb Nahata elected as Chairman of  Maharashtra State Market Committee Co-operative Federation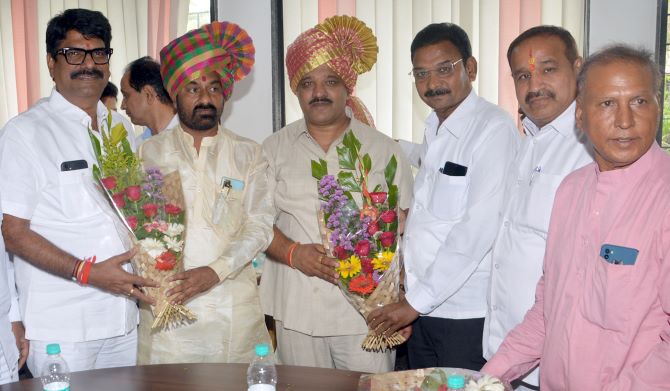 Pune, 13 April 2022: Pravinkumar alias Balasaheb Nahata of Nationalist Congress Party from Shrigonda (Ahmednagar) was elected unopposed as the chairman of Maharashtra State Market Committee Co-operative Federation, while Santosh Somvanshi of Shivsena from Latur was elected unopposed as the deputy chairman. This elected committee will be for a period of five years from 2022 to 2027.
The election process of the federation, which was founded and headed by the then Chief Minister Vasantdada Patil and is the apex body of 301 market committees in the state, was completed on Tuesday.  The meeting was held at the headquarter of federation at Marketyard and was attended by 19 out of 21 directors.
Narayan Aghav, District Deputy Registrar, acted as the electing officer, while Ashokrao Dakh, Chairman of Mumbai Agricultural Produce Market Committee, acted as the election inspector. Election process was carried out under the guidance of Chief Minister Uddhav Thackeray, Deputy Chief Minister Ajit Pawar, Revenue Minister Balasaheb Thorat, Co-operation Minister Balasaheb Patil and other leaders.
The newly elected Board of Directors includes Manish Dalvi (BJP, Mumbai-Ratnagiri-Sindhudurg), Keshav Mankar (BJP, Bhandara-Gondia), Damodar Navpute (BJP, Aurangabad-Jalna), Popatrao Sonawane (NCP, Jalgaon-Nandurbar-Dhule), Ramesh Shinde (  NCP, Pune-Satara), Ashokrao Dakh (NCP, Beed-Osmanabad), Sanjay Kamanapure (NCP, Nagpur-Wardha), Sandeep Kale (NCP, reserved), Ranjana Kandelkar (NCP, reserved), Pandharinath Thore (NCP, reserved)  , Yashwantrao Jagtap (Congress, Solapur-Sangli-Kolhapur), Anandrao Jagtap (Congress, Yavatmal), Dinesh Chokhare (Congress, Chandrapur-Gadchiroli), Babarao Patil (Congress, Reserved), Indutai Gulve (Congress, Women Reserved), Ankush Aher  (Shiv Sena, Parbhani-Hingoli), Sevkaram Tathod (Shiv Sena, Akola-Buldhana), Dnyaneshwar Nagmote (Shiv Sena, Amravati-Washim).
Expressing happiness over the becoming chairman, Balasaheb Nahata said, "Respected Vasantdada Patil has set up the Market Committee. I am fortunate to have the opportunity to hold the post he has held. Due to the new policies introduced by the central government & also corona pandemic, there are some challenges for the farmers and market committees. We are trying to understand the regionwise issues and work on them. We will continue to work for the benefit of the farmers by trusting the 301 market committees."
Santosh Somvanshi said, "I am happy that Shivsena got the post of deputy chairmanship in federation. I thank all the leaders and directors of the Maha Vikas Aghadi government. All the parties have cooperated without party politics including BJP. The federation will perform duty between government and market committee across the state. It should have the opportunity to be represented on the marketing board for directors on federation."