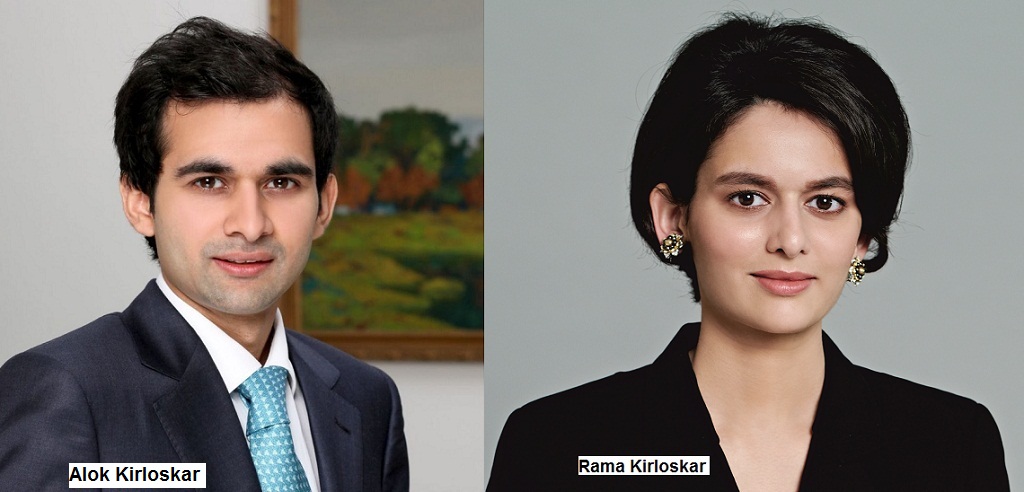 Pune, 3rd August 2021: Kirloskar Brothers Limited (KBL) today announced key organisational changes with Rama Kirloskar (31) appointed as the Joint Managing Director of the company. She will lead the domestic small pumps division and valves business of the company. 
Alok Kirloskar who has been based in London since 2012 is a Director on the Board of KBL and CEO of Kirloskar Brothers International BV [which includes SPP Pumps Ltd], continues to head all the overseas businesses and leads many technology initiatives at KBL.
With this change, the 5th Generation of the Kirloskar family is now in charge of strategically important portfolios to continue the company's growth journey into domestic and international markets. This is in line with the big shift from an infrastructure projects company to be a product company.
The roles will continue to evolve based on key operational portfolios in industrial and engineered pumps held by Sanjay Kirloskar, Managing Director. He will continue to provide strategic advice as to the company shifts from an infrastructure projects company to be a product company.
Who is Rama Kirloskar?
Rama Kirloskar (DIN 07474724) is a Director on the Board of the Company, from 2s1h July 2017.
She currently serves as the Managing Director of Kirloskar Ebara Pumps Limited (KEPL), a joint venture between Kirloskar Brothers Limited, the parent company of the 133-year-old Kirloskar Group and Ebara Corporation, Japan. She has been instrumental in the turnaround of KEPL into a debt-free company. 
Previously, she was General Manager and Head of the Product Portfolio Management at Kirloskar Brothers Limited, where she was responsible for driving the Go-to-market strategy, product value management and restructuring for the mass production business; material grade rationalization and streamlining for the foundry business and product rationalization for the made-to-order business.
She holds a double major in Mathematics and Biology from Bryn Mawr College, USA. After graduation, she went on to work at Polaris Partners, a multi-stage venture capital firm that principally invests in technology, healthcare and consumer products, headquartered at
Boston, MA, USA. Subsequently, she worked at the Koch Institute at Massachusetts Institute of Technology (MIT), USA Her research led her and the team to begin working with Visterra Inc., an MIT biotechnology start-up company that currently uses its proprietary platform to design therapeutics for infectious diseases.
She is one of the authors of a publication in the journal Cell (Robinson et al.,2015, Cell 162, 1-12, doi: 0.1016/j.cell.2015.06.057),in the paper titled "Structure-Guided Design of an Anti-Dengue Antibody Directed to a Non-lmmunodominant Epitope".
She is also on the Board of Karad Projects and Motors Limited and Prakar Investments Private Limited. She is on the Executive Council of AGNli (Accelerating Growth of New India's Innovations), a programme of the Office of the Principal Scientific Adviser to the Government of India and a Mission under the Prime Minister's Science Technology and Innovation Advisory Council (PM-STIAC).