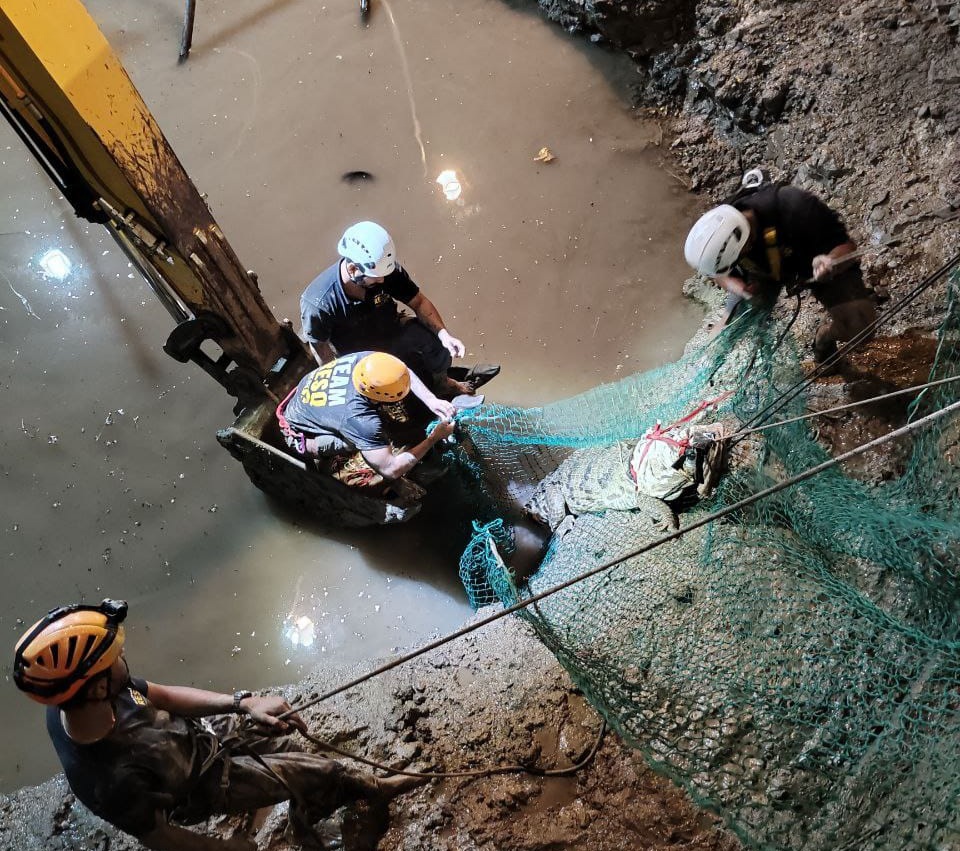 Indapur, 2nd December 2021: Fallen and stuck in a well near Indapur, a crocodile was reported by the Pune Forest Department to the RESQ Charitable Trust (Wildlife) team on 1st December 2021.
Due to the heavy downpour it took the RESQ team over 3 hours to reach the location but once there, got prepared quickly to bring out the animal who was stuck in over 4 feet of mud slush. Range Forest Officer Ajit Suryavanshi was present at the rescue location and had proactively begun pumping out the water along with managing the crowd which was critical in the timely rescue of the crocodile. The local sarpanchs cooperation helped immensely in the operation as well.
RESQ Wildlife team head, Tuhin Satarkar said "safely secured, we descended into the well onto a spot which had some ground to work on. In a crocodile rescue, the first thing one needs to do is cover its eyes and secure its mouth, then the animal can be lifted or moved. The crocodile was extremely cooperative and allowed us to work smoothly – it seemed as if it just wanted to get out the well itself as quickly as possible!"
"The crocodile was secured in a stretcher and lifted out using a JCB. It has been transferred to RESQ Wildlife TTC, Bavdhan for health check and fitness" said ACF Ashutosh Shendge, Pune Forest Department, "once we get a clean bill of health from RESQ veterinary team, we will determine a safe release location for it and return to natural habitat."
The safe rescue of this crocodile in such challenging weather was possible due to the collaborative work between Pune Forest Department, RESQ Wildlife Team – Tuhin Satarkar, Sumedh Tarde, Sonesh Ingole, Naresh Chandak, Nikhil Patil, Harshad Nagare, Tayyab Sayyad, Shreenath Chavan, Dr. Nikita Mehta and the local rescue team of Baramati – Rescue Baramati.