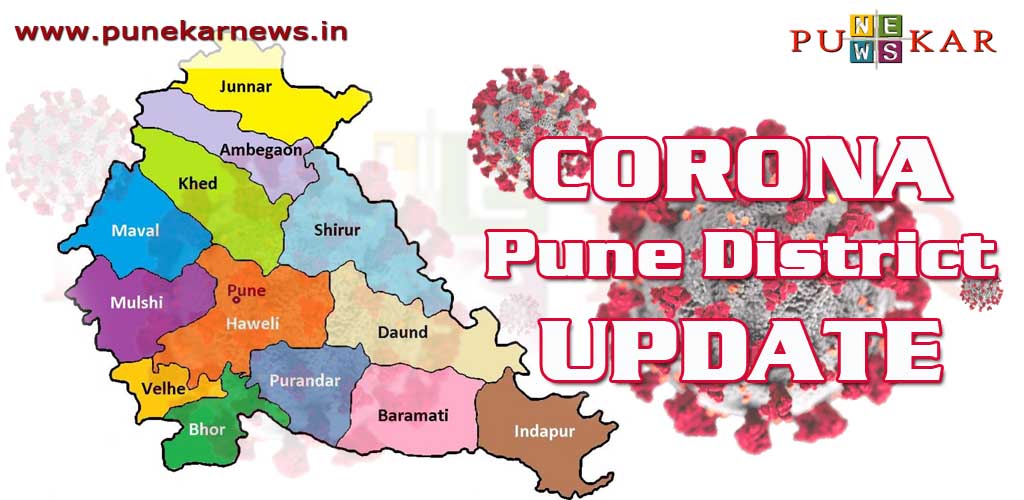 Pune, June 30, 2020: With the addition of 833 fresh Coronavirus positive yesterday, the total number of COVID cases has reached 21,690 in Pune district. Also, 688 patients got discharged from hospitals while 12 people died.
Dr Bhagwan Pawar, District Health Officer (DHO), said that out of total 21,690 patients 13,098 have been cured and discharged from hospitals, while 732 people have died. There are still 7860 active patients undergoing treatment including 382 critical patients. Most of the patients are from Pune Municipal Corporation (PMC) area. Till now 165,217  people have been tested in the district.
The 21,690 patients include 16,854 from Pune Municipal Corporation (PMC) area, 3127 from Pimpri-Chinchwad Municipal Corporation (PCMC), 531 from Pune Cantonment, 170  from Khadki Cantonment, 11 from Dehuroad Cantonment and 997 from Pune rural areas. In the Pune rural areas, there are 11 from Baramati town, 16 from Baramati rural, 98 from Daund town, 1 from Jejuri, 31 from Talegaon Dabhade, 16 from Chakan, 32 from Saswad, 2 from Alandi, 4 from Lonavala,1 from Shirur town, 2 from Junnar town, 13 from Indapur town, 2 from Bhor town, 2 from Vadgaon, 3 from Rajguru Nagar, 328 from Haveli, 35 from Shirur, 57 from Junnar rural, 79 from Khed, 46 from Mulshi, 35 from Velha, 23 from Bhor, 9 from Indapur rural, 30 from Daund rural, 51 from Maval, 19 from Purandar and 51 from Ambegaon.
Across Maharashtra, there were 5257 new COVID19 cases yesterday taking the total number of cases to 169,883. Also, 181 people died while 2385 got discharge from hospitals after being cured. There are still 73,298 active cases. Till now 88,960 COVID-19 patients have been cured. The recovery rate in the state is 52.37 %.
According to the Union Health Ministry, the number of Coronavirus positive patients has reached 566,840 across the country. Out of this, 334,821 have been cured and discharged from hospitals while 16,893 people have died and one patient has migrated out of the country. There are still 215,125 active patients undergoing treatment in hospitals across the country.