Pune's biggest underground Rap cypher enthralls audience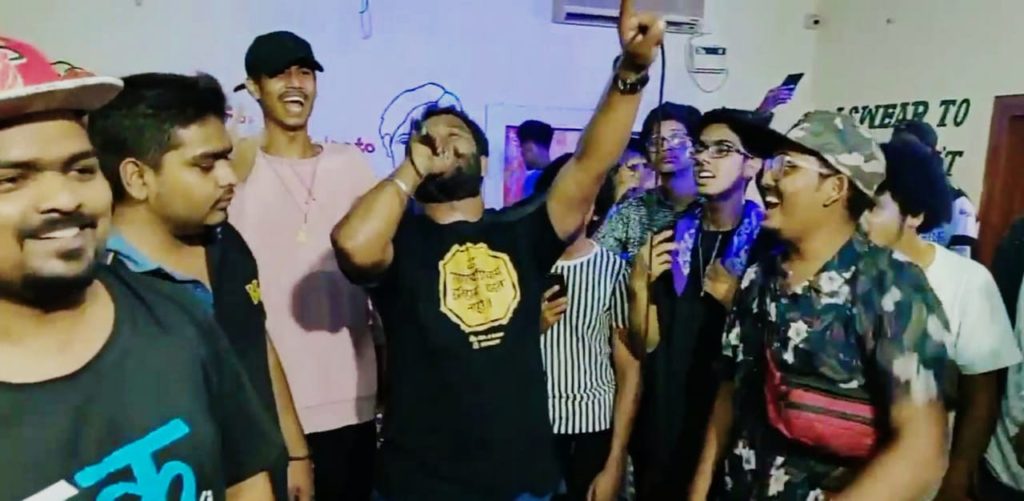 Pune : The biggest underground Rap cypher competition took place on May 28, which got huge response from all the rappers of Pune. This event happened at Punjabi Spice, Ubale Nagar, Pune that gave everyone the chance to portray themselves through their lyrics and also gave them the opportunity to win exciting prizes and gift vouchers.
The event was organized by Vivian Anthony, William Anthony, Aniket Dolas and Talent Hunt. The basic aim of the event was to bring out the raw hip hop lying in the streets of Pune which was successfully achieved. There was no other location other than Punjabi Spice that could suit the best other than the location that was chosen. There were food and welcome drinks that was sponsored by the restaurant in order to support the cause.
A total of 30 rappers performed at the event. The winner of the event was Mr Hitzz who lit the environment by rapping on the spot on a freestyle beat by which he left everyone in surprise. He won a certificate and a trophy signed by the judge Mr. Anthony Pillay (CEO of Talent Hunt and Ideas Explorer), William Anthony (YouTuber and content creator) and Akshay Ubale (CEO of Punjabi Spice and Dhanashree Ventures) along with his song recorded and video shoot in a recording sludio(presented by Talent Hunt as well as his track uploading on Jio Saavn, as well as an unlimited barbeque-buffet for 4 in Punjabi Spice Pune.
Pranstar (Pranesh) was chosen to be the first runner up for his splendid performance despite he holding the mic for the first time. He won a certificate of appreciation and a runner up trophy. All the other participants were promised publicity-through Youtube platforms of Talent Hunt and William Anthony through different vlogs and participant videos and also a 30% revenue share on each participants videos on Talent Hunt.
Other participants included Vivian Anthony, Jr. Zues, Veera, Kunal, Saksham, Xaurab, Paddy, Radavishay, Shivam, Electric Langoor, Mc Sun E, Chelan, Lam Z, Shambho, Naam, Boniface, Chetan CP, Tanay Gogate, Pranstar, 7sense, Mc Yashu, Jordan, Dhruv, Tejas Mahale, Mr Hittz, Sylvester, Maharishi, Mc chow, Lil queer, Mc dodo and Street Force Dance crew set the entire floor on fire by making the situation so hyped that was never seen before.
The event was successfully aligned by the organizers Vivian Anthony, Aniket Dolas, William Anthony and Talent Hunt by the support of Cynthia.B,Justin.B, Jaynay.M, Vishal.S,Akshay.U and by the highly trained audio engineer Aditya.I.