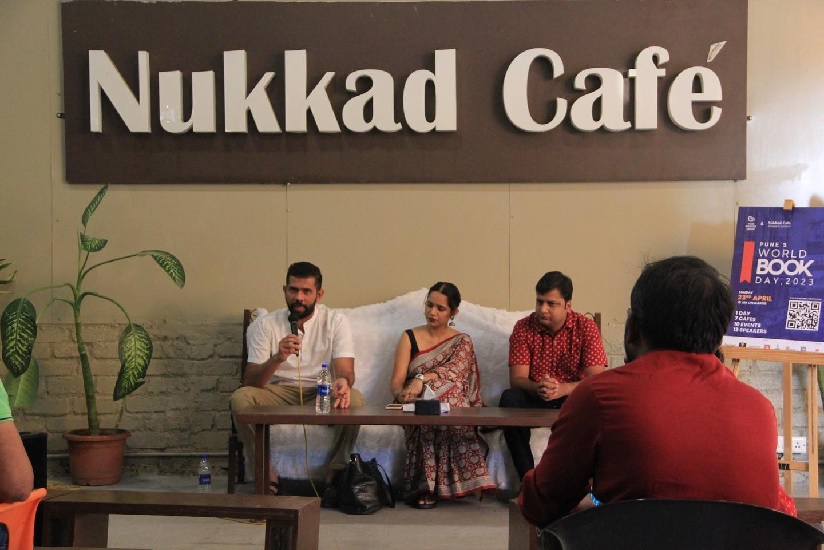 Pune, 24th April 2023: As the sun rose over the city of Pune on April 23rd, the air was buzzing with excitement and anticipation for the inaugural World Book Day celebration, a new initiative by Nukkad Cafe.
It was a momentous occasion, marking the first time that the book day was celebrated in unity in the city. The joint effort by Nukkad Cafe and the Pune Writers' Group brought together book lovers from all corners of the city, eager to participate in the ten events hosted by seven different cafes.
As the day unfolded, it quickly became clear that this was an event to remember. With thirteen speakers interacting with the attendees, the day was filled with intellectual stimulation and inspiring discussions. Dr. Swati Shome, an author, gave a captivating talk on 'The Reading Habit,' sharing her wisdom on how to cultivate the habit of reading in children.
Meanwhile, the 'Books and Games' event was a delightful way to bring together literature and play, with participants engaging in word games and reading books.
The panel discussion on audiobooks and their production, 'People Behind Audiobooks,' was an enlightening experience, featuring industry experts Urmila Nimbalkar, Sukirt Gumaste, and Niranjan Medhekar from Storytel. The final event of the day at Nukkad Cafe was 'Twilight Language,' where the launch of Vinita Agrawal's book, which had won the Proverse Prize Hongkong 2021, was celebrated with great enthusiasm.
The other cafes were not to be outdone, as they too hosted a series of engaging events. Waari Book Cafe presented 'Lekhak Honyas Kay Lagte (What it takes to become a writer),' a discussion on the writer's journey in the Marathi language by Ashutosh Potdar.
Rainbow Fizz Cafe's 'Regional Publishing in 2023' was a fascinating talk by Akhil Mehta and Yojana Yadav from Mehta Publication House on the current state of publishing in Indian languages. Marshall's Book Cafe had the beautiful 'Kavitachya Shodhyat (In Search of Poetry),' an exploration of Marathi poetry by Shriranjan Awate. Pagdandi Cafe presented 'The Bee Box,' which featured contemporary poems in English.
Kitabi Chai Cafe's 'A Writer's Journey' featured Anil Menon's inspiring story of his journey as a writer.
Lastly, Mauji Cafe's 'What Happens When We Read A Book' by Sucharita Dutta provided valuable insights into the transformative effects of reading.
The World Book Day 2023 in Pune was an outstanding success, and all those who made it possible deserve accolades. The event was a testament to the power of literature in bringing people together and inspiring meaningful conversations. .