Pune Cantonment: 16 new COVID cases reported today, Check area wise report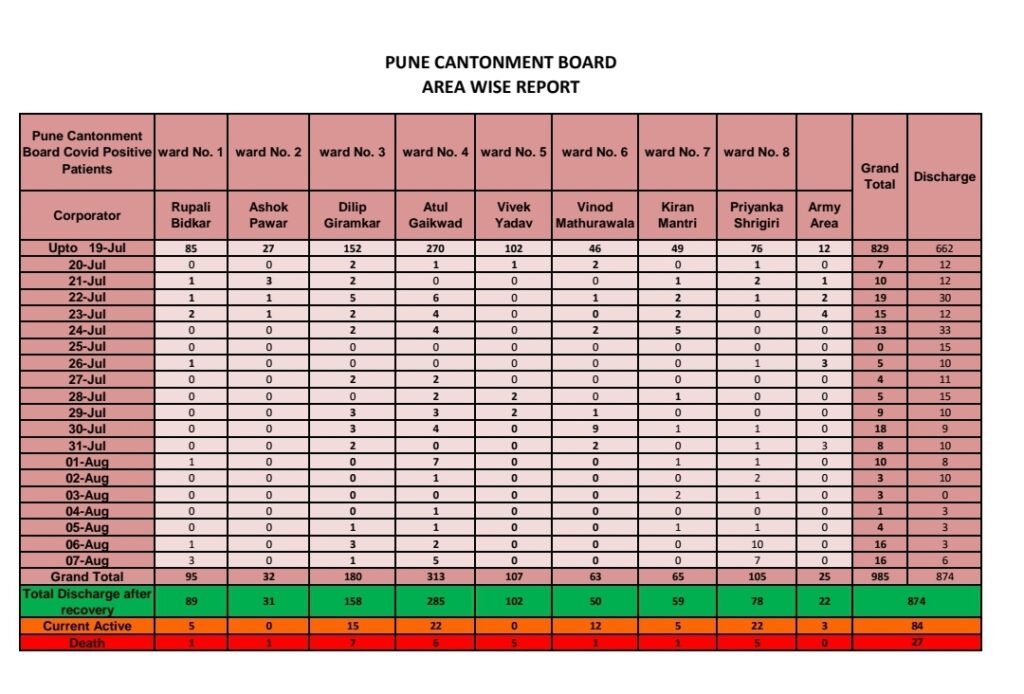 Pune, August 7, 2020: With 16 new Coronavirus Disease (COVID-19) cases today, the total tally of positive patients reached 985 in the Pune Cantonment Board (PCB) area. Out of 985, a total of 874 people have been cured while 27 have died.
According to PCB, there are still 84 active patients undergoing treatment, and 22 of them are from ward no. 4 and 22 from ward no. 8, while others are from the remaining four wards. Three cases have been reported from the Army Area. Ward no. 2 and 5  have zero active cases in the Pune Cantonment area.
According to Pune Municipal Corporation (PMC), the total number of Coronavirus positive patients till date has reached 63,286 out of which 44,774 have been cured while 1479 have died. There are still 17,033 active patients undergoing treatment in various hospitals. They include 703 critical patients out of which 439 are on ventilator support.
According to Pimpri Chinchwad Municipal Corporation (PCMC), the total number of Coronavirus positive patients has reached 27,078 out of which 18,794 have recovered, while 460 have died. A total of 4,827 active patients are still undergoing treatment. There are 373 non-PCMC residents currently admitted in PCMC hospitals, while 106 have died and 1,118 have been cured till now.
Across Maharashtra, 3,27,281 patients have been cured, while the case fatality rate in the state is 3.49 percent. As of today, there are 1,45,582 active cases in the state. The recovery rate in the state is 66.76 percent. Currently, 9,82,075 people are in home quarantine and 35,262 people are in institutional quarantine. Out of 25,69,645 laboratory samples, 4,90,262 have been tested positive (19.07 percent) for COVID-19 until today.
According to the Union Health Ministry, the number of Coronavirus positive patients has reached 20,27,074 across the country. Out of this, 1,378,105 have been cured and discharged from hospitals, while 41,585 people have died and one patient has migrated out of the country. There are still 6,07,384 active patients undergoing treatment in hospitals across the country.