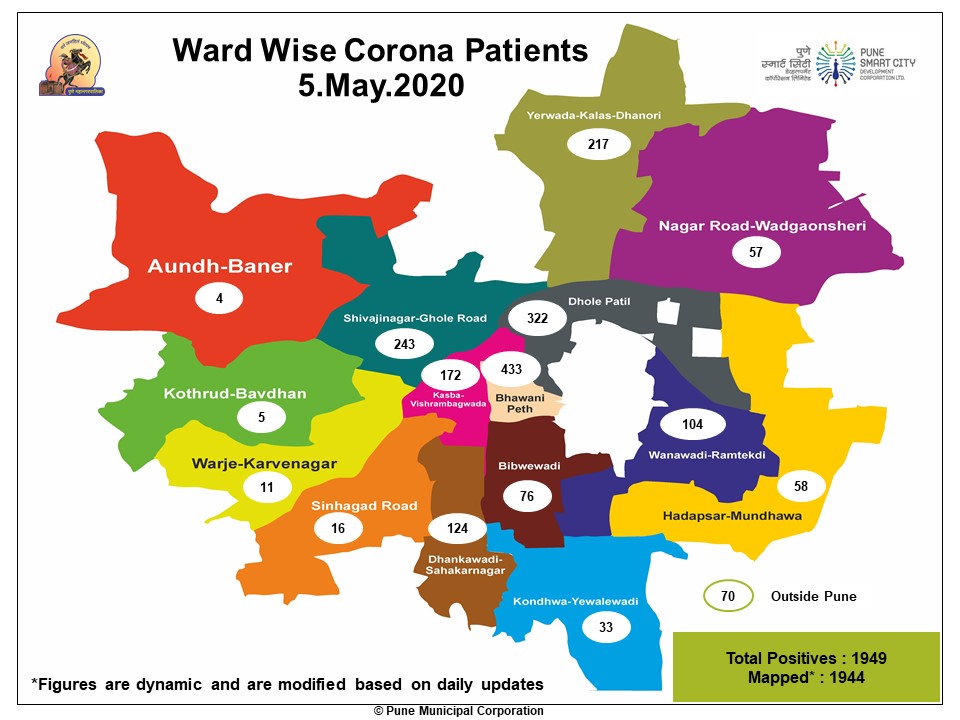 Pune, May 6, 2020: Today 86 new Coronavirus positive patients were reported under areas in Pune Municipal Corporation (PMC) taking the total number of COVID cases to 2029. Till now 118 people have died while 587 patients have been cured and discharged. According to PMC, seven patients died today while 52 patients were discharged from hospitals after getting cured of Coronavirus. There are 1324 active patients in the hospital including 79 critical patients.
In Pimpri Chinchwad areas, today 10 new patients of Corona were found in Pimpri Chinchwad city during the day. Two patients have died within 24 hours, both were residents of Pune. The total number of COVID patients in PCMC areas has reached 145.
Out of 10 new patients, two are from Pune and admitted at YCM Hospital in Pimpri. So far 60 patients from Pimpri Chinchwad and 3 patients from Pune admitted in YCM have been cured of Coronavirus. 7 patients have died, out of which 4 patients are residents of Pune. There are still 73 active patients in PCMC.
Maharashtra COVID cases tally reach 16758
Across Maharashtra, 1233 new Covid-19 cases were reported today. The state tally of COVID-19 positive patients is now 16,758. There were 34 COVID-related deaths in the state today. Out of these, 25 deaths were recorded in Mumbai, 3 in Akola city, 1 in Jalgaon city and 1 in Solapur city. Additionally, 1 resident of Uttar Pradesh died in Mumbai today. 3094 patients have been discharged till date after full recovery. Currently, 2,11,112 people are in-home quarantine and 13,107 people are in institutional quarantine.
Out of the 34 deaths today, 21 were men and 13 women. 18 of them aged over 60 years, 13 were from the age group 40 to 59 years and 3 were aged less than 40 years. Information regarding comorbidities in 2 patients who died is not available yet. 27 out of 34 patients (79%) had high-risk co-morbidities such as diabetes, hypertension, heart disease, etc. Death toll in Covid19 patients has now gone up to 651 in the state.
Out of 1,90,879 laboratory samples, 1,73,838 were negative and 16,758 have been tested positive for coronavirus until today. As per the guidance from the Government of India, cluster containment action plan is being  implemented in places where clusters of patients have been found in the state. There are 1048 active containment zones in the state currently. Total 11,692 surveillance squads worked today across the state and surveillance of 51.14 lakh population was done.