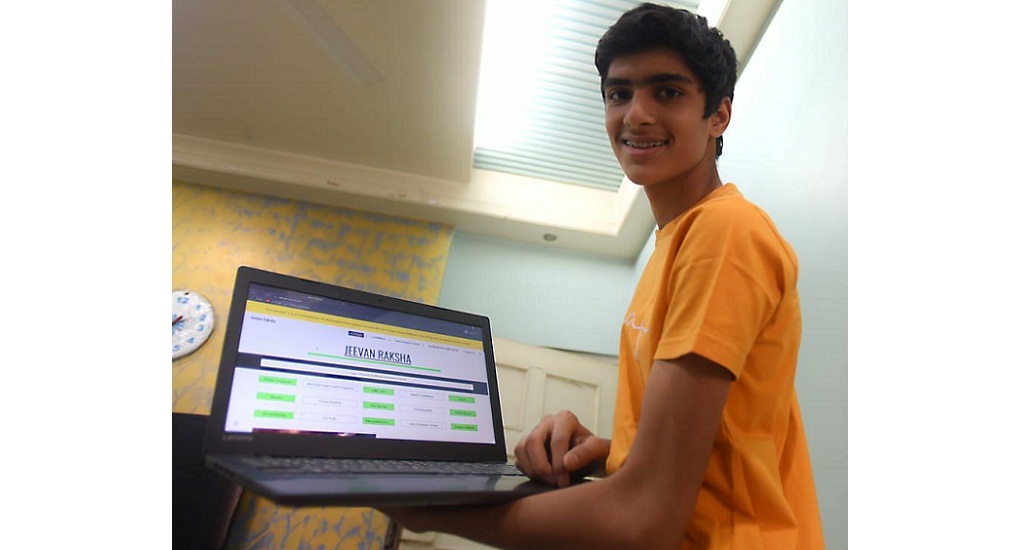 Manasi Saraf Joshi
Pune, 4th May 2021: As the saying goes "the journey of a thousand miles begins with one step", class 10th boy of Dastur High School, Pune Viraj Shah's journey too seems similar.
Viraj, a teenager has created a website that gives authentic information regarding Covid-19 right from the availability of oxygen cylinders to plasma donation, safety guidelines for kids to guidelines regarding it. The website is https://www.jeevan-raksha.com/ is an oasis in this troubled time.
"It was in January 2021, when my grandmother and few relatives were tested positive for Covid-19, we frantically searched for various things at various platforms. The chaos pushed me to make a website where the entire information regarding this disease can be available", said Viraj, while talking to Punekarnews.
"We underwent the struggle as the very word Covid creates fear and panic among many. Our family was lucky since my grandmother had mild symptoms but still running from pillar to post for medicines to good food and a bed in the hospital exhausted us ", he explained. "There the idea to create something which not only will allay this fear but will also help them to fight against it", he said.
Website created in few days
The website was made within a few days. It took some efforts to bring all the information under one platform. But it was ready in just 10 days, he said. It was appreciated by Pune Mayor and is one of its kind in Pune and Maharashtra.
The website https://www.jeevan-raksha.com/ has the guidelines given by World Health Organisation (WHO), Ayush Ministry- Government of India, Pune Municipal Corporation, information regarding vaccination, list of vaccination centres in Pune city, guidelines for children and senior citizens, list of tiffin providers to Covid patients, NGO's, blood bank, names of institutes providing oxygen, what is the difference between Quarantine and Isolation, how to use the oximeter, how to use Arogya setu app, guidance by doctors on how to improve upon the immunity and many more.
All this information is available on the website and through the search option, you can find it. "The website gets updated every five minutes, he said adding that if a person has registered for donating the blood or plasma, after completing the donation, s/he can delete their profile, so that they do not unnecessarily get calls for donation".
Viraj made warbot for doctor's help
Viraj, a technology-savvy boy, had created the warbot with the help of doctors. He donated warbots at Sassoon General Hospital and Naidu Infectious Disease Hospital. "These warbots work as nurses, can load supplies, deliver and come back", said Viraj.
Viraj who aspires to make his career in Information Technology (IT) is helped and supported by his father IT professional Rahul Shah, mother Ankita and younger sister Aneri.
Youngest cyclist to climb Pallikana 
Viraj besides enjoying technological advances also loves to cycle. He was the youngest person to cycle to Pallikana in Gujarat, a sacred place for Jains. He completed a 900 km long journey in eight days. He was just 13 years old when he travelled to this place cycling 100 to 120 km per day.
Join our Whatsapp Group and Telegram for each update about Pune and PCMC
Follow Punekar News: