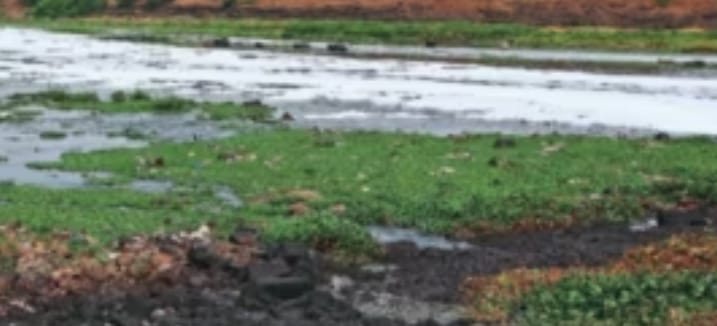 Pune, 5th June 2023: Hinjawadi, known for its world-renowned IT Park, is facing a severe problem as residents are forced to consume contaminated water with a strong stench. The Mula River basin near the village has experienced a lack of water flow for several months, leading to the accumulation of stagnant water emitting a foul odour. The increasing mosquito population has further exacerbated the citizens' plight, risking their health and safety.
The riverbed has taken on a green hue, indicating the presence of pollutants. The consumption of this water has caused significant health issues and created an alarming situation for the residents. The water system in the area is also on the verge of collapse. To address this problem and restore the balance of the environment, it is crucial to ensure the flow of water and eliminate the polluted water sources that promote disease in the riverbed. The release of water from the Mulshi Dam and conducting an audit of the water quality have been demanded as necessary measures.
Vikram Sakhre, former Sarpanch of Hinjawadi and current member, has appealed to District Collector Rajesh Deshmukh and MP Supriya Sule to take immediate action. The township of Blue Ridge in Hinjawadi, which houses around 2,000 flats and more than 10,000 citizens along the banks of the Mula River, has witnessed extensive urbanization due to IT development. The residents rely on the river water for drinking and daily use, exacerbating their concerns about the contaminated water supply.
The local farmers are also expressing their anger as the heavily polluted river water is rendered unsuitable for agricultural purposes. A consistent flow of water would help maintain its cleanliness. Currently, the water is no longer usable or potable. By periodically releasing water from the dam until the monsoon arrives, the algae, moss, and aquatic plants in the riverbed can be eliminated. This action would alleviate the stench and improve the overall water quality.
The Mula River, which exists merely in name, requires immediate attention to ensure a continuous flow of water. The accumulation of stagnant water has resulted in increased pollution, affecting the citizens and local farmers alike. Releasing water from the dam would help maintain a steady flow, cleanse the riverbed, prevent diseases, and provide safe drinking water.