Pune: Four-Hour Traffic Jam Grips Wakad-Datta Mandir Road, Residents Demand Urgent Action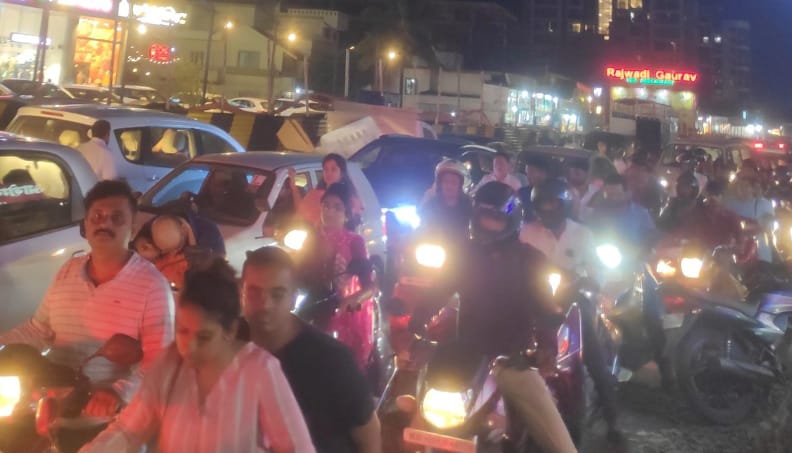 Wakad, 4th June 2023: Frustration is mounting among residents as the persistent issues of slow construction progress, dug-up roads, and unruly parking habits contribute to regular traffic congestion on the Wakad-Datta Mandir road. Today evening, the situation repeated itself, causing a major traffic jam that left numerous commuters stranded for over four hours.
With the weekend in full swing, residents ventured out for their routine shopping activities around 4 pm. However, due to ongoing concreting work on the Datta Mandir Road, the road has narrowed significantly, exacerbating the problem. Vehicles were parked haphazardly along the road, further reducing the available space. Unregulated parking lots near Bastan Mandele, Star Bazar, and Zudio shops covered a substantial portion of the road, leading to a standstill. Janoba Chowk, Utkarsh Chowk, and Wakad Chowk were particularly affected, with long queues of frustrated drivers.
Residents are now demanding immediate action to address this recurring issue. They believe that the absence of traffic police personnel along this route is a major contributing factor and are calling for additional officers to be deployed on Saturdays and Sundays. These two days, typically associated with relaxation and leisurely activities, have become a cause for concern among Wakad residents.
The primary causes of the traffic congestion problem are the unauthorized food stalls, roadside vendors, and the bustling weekly markets that encroach upon the roads. Furthermore, the presence of stalls selling various goods, toys, and materials only adds to the chaotic environment. Illegal parking on the roads further compounds the problem, leaving commuters frustrated and helpless.
Efforts to resolve these issues are being sought from the authorities to ensure smoother traffic flow and better management of road space in Wakad. Residents hope that their pleas will be heard and necessary measures will be taken promptly to alleviate the weekend traffic woes that have been plaguing the area.
Join Punekar News Whatsapp Group, Telegram, Instagram And Twitter  For Regular Update about Pune City And Pimpri-Chinchwad