Pune Major Ganesh Mandals in city to set up COVID care centre in Fergusson College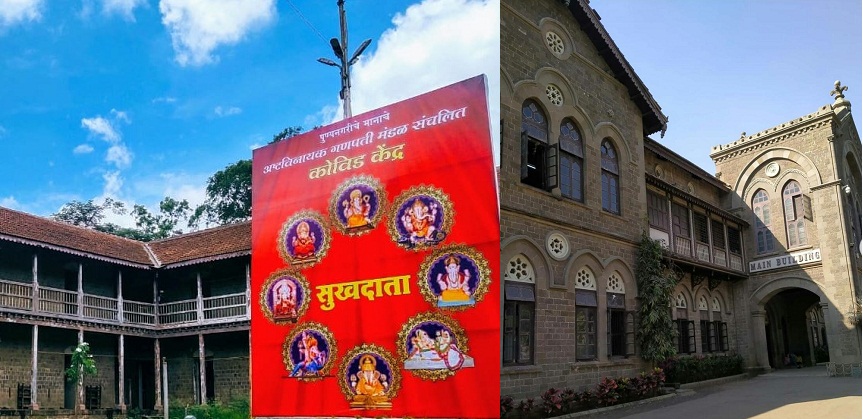 Rahul Kumar
Pune, August 3, 2020: Eight reputed Ganesh Mandals in the city including the five revered (manache) Ganesh Mandals, have come forward to set up a COVID care centre in Fergusson College. This centre will provide COVID treatment to 400 patients, and also has 20 oxygenated beds.
The revered Ganesh Mandals – Shree Kasba Ganpati, Tambdi Jogeshwari, Guruji Talim, Tulshibaug and Kesariwada, along with the three other major mandals – Shrimant Bhau Rangari Ganpati, Akhil Mandai Ganapati Mandal, and Shrimant Dagdusheth Halwai Sarvajanik Ganpati Mandal have contributed together to setting up of this COVID centre at Ferguson college. These mandals, in coordination with Pune Municipal Corporation (PMC), have arranged for the beds and other facilities.
Apart from medicine, these centres will enhance the spiritual experience which will increase the body immunity and mental health to combat COVID-19. Boards and posters conveying positive messages, slogans like Ganpati Bappa Morya will be displayed in the centre.
An Ayurvedic Kadha (immune booster drink) will be given with the regular medicines. Dr Parag Rasane and Dr Anjali Kari along with other 12 doctors will check patients' under treatment at the centre every day, and provide them with treatment as per government norms. The government expects other social organisations to also come forward to set up such centres for the treatment of COVID patients.
PMC Standing Committee Chairperson Hemant Rasane made this announcement in a virtual press conference on Saturday. Shreekant Shete, President of Kasba Ganpati Mandal, Rajabhu Tikar, President of Tambdi Jogeshwari Mandal, Praveen Paradeshi, President of Guruji Talim Mandal, Vivek Khatavkar, President of Tulshibaug Ganapati Mandal, Anil Sapkal of Kesariwada Ganpati Mandal, Sanjeev Javale of Shrimant Bhausaheb Rangari Ganpati Mandal, Mahesh Suryavanshi, Sunil Raine of Shrimant Dagduseth Halwai Ganpati Trust, Sanjay Mate of Akhil Mandai Ganpati Mandal and Puneet Balan, Nitin Pandit were present at the press conference.