Pune: Nilisha, Vaishnavi star, score hat-tricks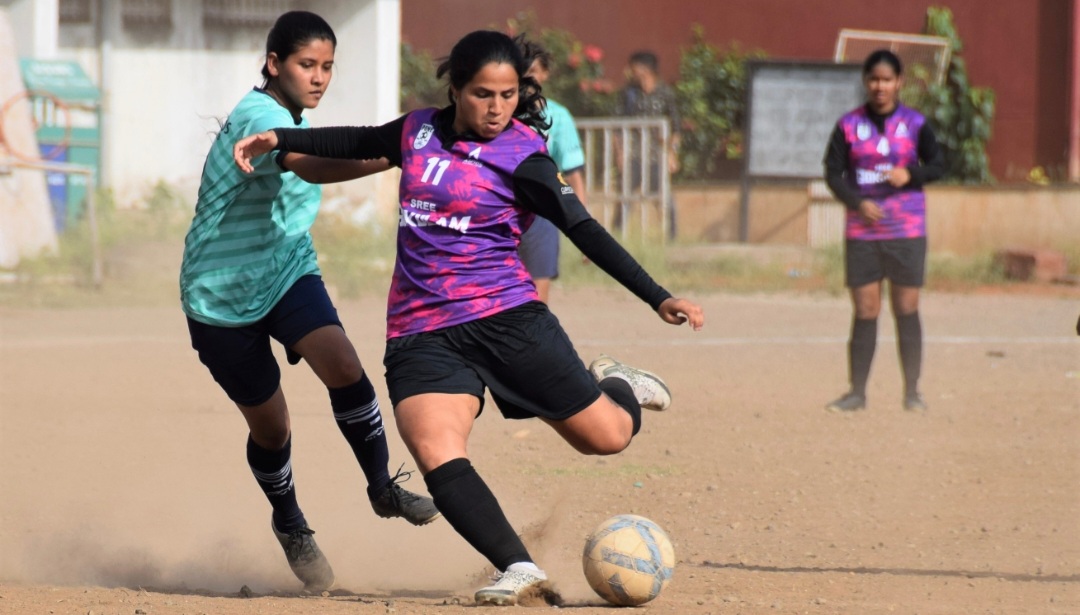 Pune, 26 May 2022: Puneri Warriors and Aspire F.C logged identical 4-2 wins over their opponents to log full points in the Women's League of the Poona District Football Association (PDFA) League 2021-22, here on Thursday.
At the SSPMS ground, Aspire F.C rode on the hat-trick by Vaishnavi Barate (15th, 45th, 60+2nd) to down Commandos.
Commandos were first to take the lead through Dhanashree Karnawat (2nd) before Aspire levelled the scores through Vaishnavi to end the first half 1-1
Changing ends, Aspire F.C had Angela Guttal (36th) make it 2-1 before Vaishnavi made it 3-1. Commandos fought back and Arshi Wadhwani (55th) made it 3-2, but a long ranger by Vaishnavi handed Aspire their first win in Pool-A.
Earlier, in Pool-C Puneri Warriors rode on Nilisha Sanket's hat-trick to get past Snigmay F.C 4-2 in an equally contest match. Nilisha score in the 3rd, 12th, 33rd minutes and Sakshi Bane (6th) added to the tally, while Snigmay F.C had Nidhi Verma (20th) and Bincy Babu (35th) reduce the scoreline.
RESULTS
At SSPMS: Women's League
Pool-B: Pune Pioneers: 1 (Aliya Inamdar 47th) bt Utkarsh Krida Mandal (UKM): 0
Pool-C: Puneri Warriors: 4 (Nilisha Sanket 3rd, 12th, 33rd; Sakshi Bane 6th) bt Snigmay F.C: 2 (Nidhi Verma 20th; Bincy Babu 35th)
Pool-C: Step Over F.A 6 (Nisha Parse 6th, 15th, 19th; Anuja Kshirsagar 23rd; Aditee Gaikwad 25th; Kyra Sachdeva 29th) bt Ryan F.A: 0
Pool-A: Aspire F.C: 4 (Vaishnavi Barate 15th, 45th, 60+2nd; Angela Guttal 36th) bt Commandos: 2 (Dhanashree Karnawat 2nd; Arshi Wadhwani 55th)
At SP College: Third Division
Pool-B: Kirkeeans: 0 drew with Sai F.A: 0
Pool-C: Keshav Madhav Prathisthan (KMP) XI: 1 (Zeeshan Shaikh 40th) drew with Association Poona Social: 1 (Shishudhan 33rd)
Pool-B: VOBA: 2 (Alaric Dias 37th; Prathamesh Dedge 58th – pen.) bt Mathew F.A: 1 (Prithviraj Mane 35th)
Pool-D: FC Pimpri Chinchwad bt Daksh F.A – Walkover
Wednesday: Pool-A: Galactic Warriors: 7 (Sanil Rokade 7th – pen.; Vivek Nath 9th; Fawad D 17th, 24th, 40, 48th; Ajit Chavan 44th) bt Nav Maharashtra: 0
Pool-A: Parshuramians 'B': 1 (Aniket Wakankar 60th) bt F.C Beckdinho 'B': 0