Pune: Observance of Communal Harmony Campaign Week 2022 Begins At PCDA Office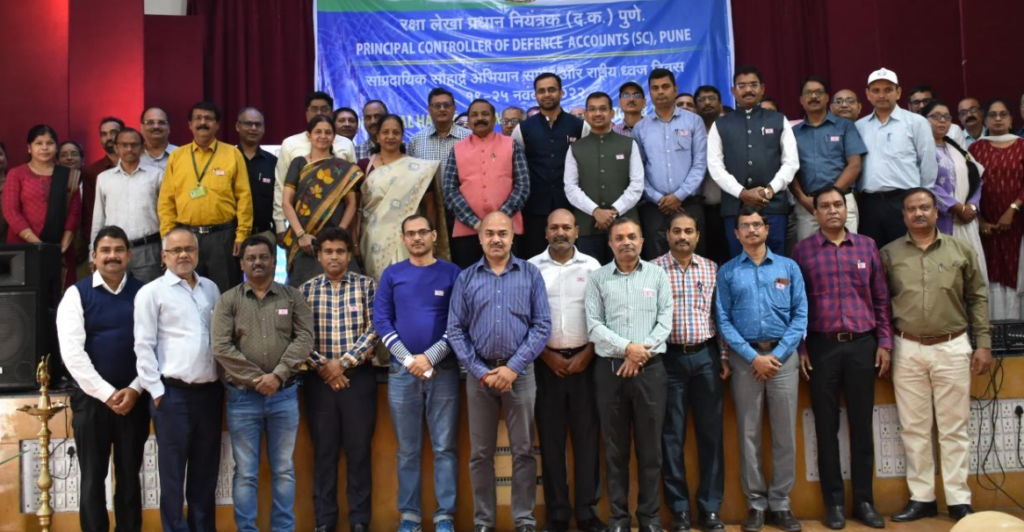 Pune, 19th November 2022: Office of PCDA Southern Command Pune commenced the Observance of Communal Harmony Campaign Week 2022 with effect from 19th to 25th November 2022.
The occasion was graced by PCDA SC, Pune, Dr. Rajeev Chavan, IDAS, ndc., as the Chief Guest and other IDAS officers viz P B Agrawal, Alok Kumar Tiwari, Swapnil Hanmane, N S Waikar, S R Boid, R Raman, and SAOs/AOs/AAOs of Pune area.
The occasion began with the welcome of the chief Guest with a bouquet by NS Waikar, IDAS, ACDA followed by the lighting of the lamp.
The Oath taking & Pledge ceremony was carried out by Alok Kumar Tiwari, IDAS, ACDA (Hindi) and by Swapnil Hanmane, IDAS, ACDA (English) and the same was repeated by all in unison amidst patriotic fervor and harmony.
The Chief Guest delivered an analytical, comparative and detailed speech citing the importance of observance of Communal Harmony Campaign Week in general and Sampradayik Sadbhavna Diwas in particular. He remembered the great contribution of Bharat Ratna Sardar Vallabh Bhai Patel in the consolidation and integration of the nation as one entity thus paying glorious tribute to the Iron Man of India.
On this day he paid tribute to late Indira Gandhi ''Priyadarshini'' for liberating East Pakistan and carving a new nation ''Bangladesh'' in 1971. He exhorted with concern about the various ''isms'' which are eating away at the vitality of our nation and retarding our move to national progress and prosperity viz Terrorism, Communalism, Castism, Nepotism, Regionalism, Linguistic chauvinism etc.
Thus requested all present to refrain from falling prey to the nasty design of ''Few & far'' who are trading and playing with these ploys. He added by promoting the great tradition of fraternity, Spirituality, Simplicity and Sagacity the nation will be on the way to Glory and will emerge as a super power in coming years.
He remembered Dr B R Ambedkar by citing that mere political freedom should not be our aim but we must also be economically and socially free.
At the end he warned the gathering to remember that for all purposes the nation is first and then everything else will follow. He prayed to the gathering to light the lamp of friendship, lit the flame of bonding, belongingness and inculcate freedom of Speech, action and liberty to make our nation a supreme power in the coming decades.
The vote of thanks was expressed by PB Agrawal, IDAS, ACDA mentioning every element involved in the planning and successful execution of the event.
Announcement and stage activity coordination of the programme was executed by Brijesh Kumar.