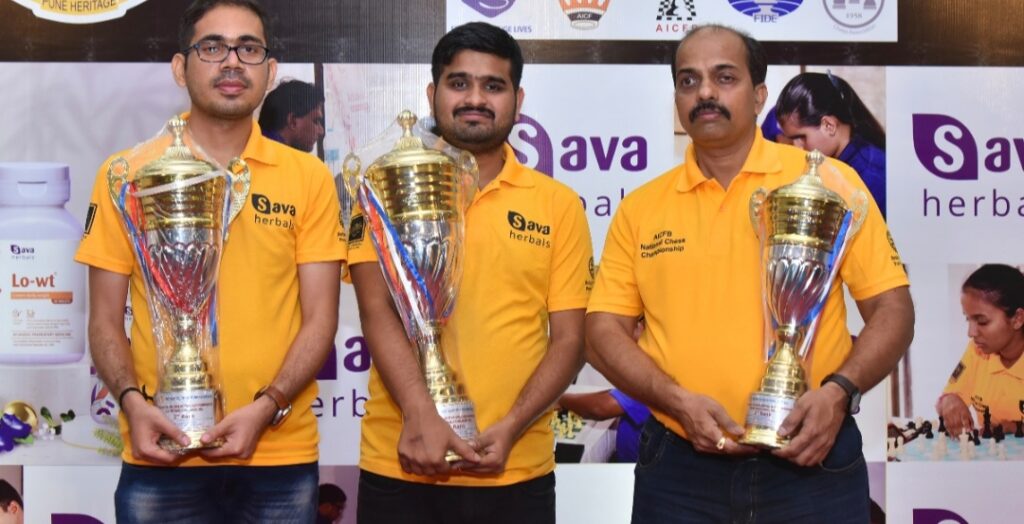 Pune, 9th April 2022: Fifth seed from Odisha, Soundarya Kumar Pradhan came out as a deserving winner of the Sava Herbal AICFB National Chess Championships for visually challenged being hosted by the All India Chess Federation for Blind and Rotary Club of Pune Heritage at PYC Hindu Gymkhana on Saturday.
Pradhan, who had gained sole lead with 7 points after the eighth round on Friday, played his ninth and concluding round against Maharashtra's Swapnil Shah on top board. Although the Odisha player was half-a-point ahead of six-time title winner Kishan Gangolli of Karnataka, Pradhan needed at least a draw in the final round to clinch the title.
He drew with 11th seed Shah in the final round to finish with 7.5 points. On the second board, second seeded Gangolli needed a win against top-seed Darpan Inani to stay in title contention, however, Gangolli could only manage a draw to finish second with 7 points. Shah finished third with 6.5 points.
Along with Shah, K. Marimuthu (Tamil Nadu) and B.L. Sominder (Delhi) also finished with 6.5 points each. Maharashtra's Milind Samant and Aryan Joshi finished sixth and seventh respectively.
Top-five players will represent India in the IBCA World Team Chess Championship to be held in Macedonia, Europe.
Maharashtra's Mrunali Pandey of Maharashtra was declared the best player in the women's category while Sam Paniel of Tamil Nadu was declared the best player in the junior category.
The winners were felicitated with trophies, certificates, and cash prizes worth Rs. 1.5 lakhs. P.N. Gadgil Jewelers' Saurabh Gadgil and Dhyan Chand Award recipient Grand Master Abhijit Kunte were present as special guests for the prize distribution ceremony.
General Secretary of All India Chess Federation for the Blind, Dr. Manish Thool, President of Rotary Club of Pune Heritage, Vinayak Pethe, Secretary Harshda Bawankar, Dronacharya Award winning chess coach Raghunandan Gokhale, CEO of Sava Herbals Dinesh Kapoor along with Secretary of PYC Hindu Gymkhana, Sarang Lagu were also present on the occasion.