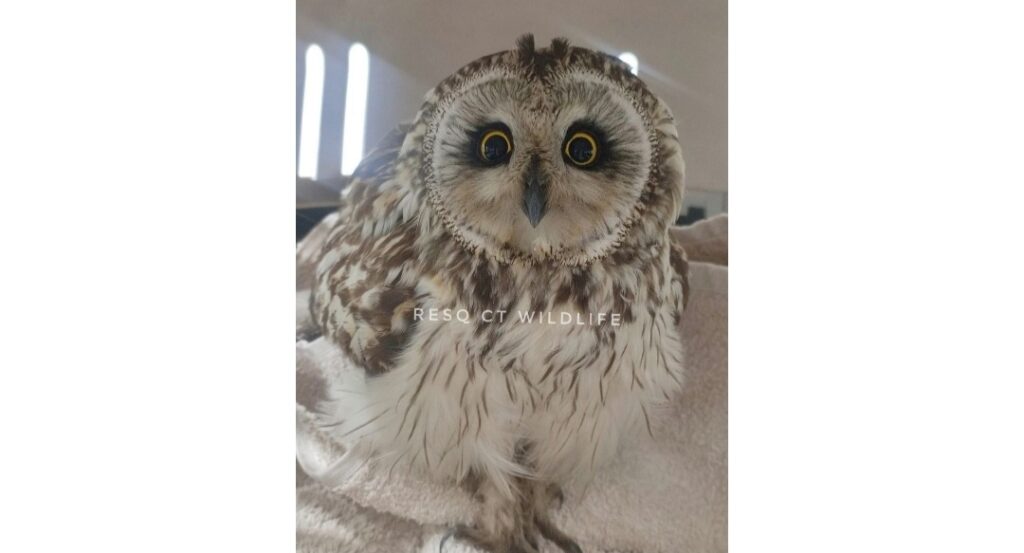 Pune, 9th April 2022: A short-eared Owl was found lying recumbent in areas around Pune's grasslands by a wildlife enthusiast who retrieved the ailing bird and brought it to the RESQ Wildlife TTC in Bavdhan, Pune on 1st April.
Vishal Jadhav, a wildlife filmmaker, had found the owl near the backwater of Veer dam near Shirwal. "I was moving in the area for bird filming early morning when I saw many crows were trying to kill the owl. I had sent the photos to the Principal Chief Conservator of Forest (PCCF) Sunil Limaye sir. Then with the help of Rohan Lovlekar and Anuj Khare, State Wildlife Board Member, we rescued the owl."
The owl was admitted in a severely dehydrated condition and was completely unable to lift its head or fly.
Dr Sushrut Shirbhate, RESQ Wildlife Veterinarian said "after two days of intensive treatment, rehydration and rehabilitation, it finally perked up and began perching. On day 3 it began taking short flights and self-feeding. It is now ready to be released and continue on its flight path."
The Short-eared Owl (Asio flammeus) is a wide-ranging species found across almost all continents except Antarctica and Australia. It is a winter migrant species in the Indian sub-continent, and is one of the few owls known to be migratory. It is found around Pune's grasslands between November to March. Experts say their arrival and departure times have been extended due to climatic changes we are experiencing.
Behaviorally the Short-eared Owl is very un-owl like. It migrates great distances over the sea, across continents. Its flight is almost like a 'moth' with irregular slow flaps and it is active during the day.
"It is satisfying to watch a wild animal make a complete recovery and getting released back in a safe habitat. We've had over 100+ wild animals coming into the RESQ Wildlife Treatment Transit Centre since the heat wave has hit us, but together, wildlife rescuers and Forest Departments have been putting in constant efforts to rescue and revive as many animals as possible. Every single one counts", Neha Panchamia, Founder and President, RESQ.
Also Read Pune: Electricity Outage Planned In Viman Nagar, Kalyaninagar, Nagar Road, Yerwada On Monday Due To Urgent Repair Work
Also Read Customs Dept Seize 466 Live Corals At Pune Airport From Passengers Arriving From Dubai
Also Read Outrageous: 12 Year Old Girl Raped In A Public Toilet In Pune
Also Read Pune: Decide On School Hours At Local Level, Education Commissioner Directs Authorities As Temperatures Rise
Also Read Pune: Woman Kills Kitten For Making Loud Noise, FIR Registered
Also Read Four Persons Killed In Accident On Pune-Mumbai Expressway
Also Read Pune: Woman Murders Husband And Hangs Body To Make It Look Like A Suicide Case
Also Read Pune: 'Playboy' Aspirant Duped Of Rs 17 Lakh By Escort Services Fraudsters
Also Read Pune MNS Chief Vasant More Removed From Post For Defying Raj Thackeray, More Gets Offer From NCP
Join Punekar News Whatsapp Group, Telegram, Instagram And Twitter  For Regular Update about Pune City And Pimpri-Chinchwad