Pune: Over 800 Tourists Fined By Police In Lonavla, Mulshi, Khadakwasla And Sinhgad Fort Areas For Lockdown Violations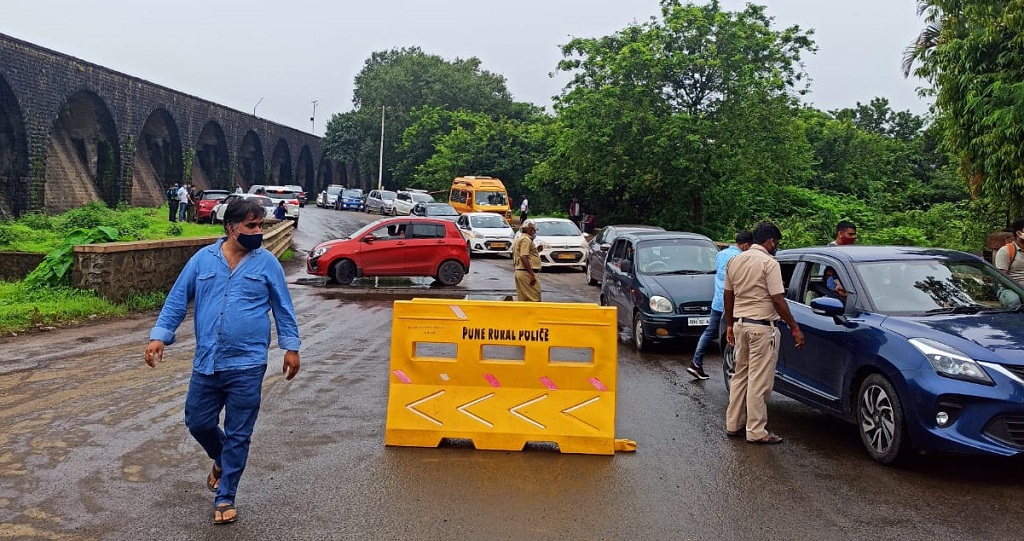 Mubarak Ansari
Pune, 11th July 2021: Even after repeated appeals by the Pune district administration, tourists are flocking to various destinations in the rural areas of the district.
On Saturday and Sunday, over 800 tourists were fined by the police in Lonavla, Mulshi, Khadakwasla and Sinhgad Fort areas. Due to the high Coronavirus disease (COVID19) positivity rate, tourism is banned in the district.
Lonavla: The police administration has taken punitive action against 525 tourists who came to Lonavla city and rural areas on Saturday and Sunday in violation of rules. In two days, Lonavla city police took action against 127 tourists and fined them Rs 50,000, while Lonavla rural police took action against 398 people and collected a fine of Rs 2.1 lakh.
Following the order of the Maharashtra state government, the police administration has put up checkpoints on the way to the tourist destinations.
Lonavla City Police Inspector Dilip Pawar said that action was taken at Kumar Chowki, Raywood Chowki and Nausena Bagh.
According to Lonavla Rural Police Inspector TY Mujawar, his team took action against tourists at Karla, Malavli, Pavana Nagar, Varsoli Tolnaka and Lions Point.
Notice boards have been put up at various places to create awareness about the ban on tourism. Lonavala municipal council is also using social media to spread the word but tourists try to visit various destinations by ignoring these messages.
According to the Deputy Superintendent of Police (Lonavla division) Navneet Kanwat, the action was taken for not wearing masks, violating the rules of social distance, driving without following the rules etc. Although the corona cases have reduced, it is not over yet.
He appealed to the citizens to be careful and avoid going to tourist places.
In the Lonavla division which includes Lonavla city and rural, Vadgaon Maval and Kamshet police stations, the action was taken against 263 people on Saturday and 410 on Sunday.
Mulshi: Police Inspector Ashok Dhumal, in-charge of Paud police station, said that action was taken against 88 persons and a total fine of Rs 45,000 was recovered from them on Saturday and Sunday. Most of them were not wearing masks.
Khadakwasla/Sinhgad Fort area: Police Inspector Sadashiv Shelar, in-charge of Haveli police station, said that on Saturday action was taken against 102 persons and a total of Rs 46,600 fine was imposed on them. Today, Rs 36,000 fine was recovered from 78 persons.
For the last few weeks, about 1,000 tourists have been fined by police every weekend. FIRs have been also registered against some of them. Still, many people are flocking to tourist spots.
Join our WhatsApp Group, Telegram, and Twitter for every update about Pune and PCMC