Pune Police Arrest Serial Chain Snatcher And Vehicle Thief  Accused In 11 Cases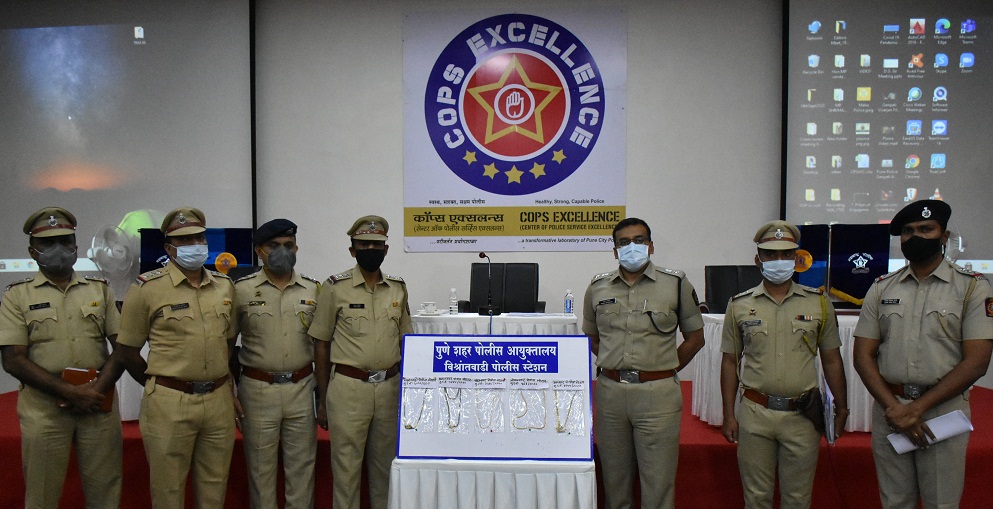 Mehab Qureshi
Pune, November 10, 2020: A 36-year-old man who allegedly snatched the gold chain of a 21-year-old woman near Kalas road, Vishrantwadi, has been arrested after two months, police said on Tuesday.
The accused has been identified as Rupesh Prakash Yadav, a resident of Wadgaon Sheri. His accomplice Halim Aalim Shaikh (40), resident of Sayyed Nagar, Hadapsar, has been arrested for allegedly selling the stolen golden ornaments.
According to police, Aarti Hore was walking towards the Vishrantwadi vegetable market with her mother-in-law to buy some fresh veggies. A stranger wearing a helmet on a bike snatched her golden necklace and drove the motorcycle towards Kalas village. An FIR against the unidentified person was registered with the Vishrantwadi police station.
After monitoring CCTV footage, the accused was arrested at his residence by a combined team of Viman Nagar and Vishrantwadi police stations.
According to DCP (Zone 4) Pankaj Deshmukh, Yadav is a serial chain snatcher and has snatched as many as four golden chains and is also a vehicle thief. "Usually, chain snatchers are always in a pair, a pillion rider snatches the chain, and the front driver accelerates and runs away.However, Yadav was always solo when he committed crimes", DCP Deshmukh said.
While questioning the accused, the police also learned that the accused had snatched one chain in the jurisdiction of  Vishrantwadi police station, two chains in Chandanagar, one in Alankar, and one under Viman Nagar Police station.
The probe also revealed that the accused was initially a vehicle thief, but after he heard that gold snatching would be more profitable, he became a chain snatcher.
Police officials have recovered a scooty pep, a bullet motorcycle, i-smart moped, Maruti Zen car, an Activa, Santro car and five stolen gold chains, total worth Rs 7.12 Lakh from his possession. Police Sub-inspector Satpute of Vishrantwadi police station is further investigating the case.
Follow and Connect With Us on WhatsApp  Telegram  Facebook  Twitter  YouTube Instagram Linkedin