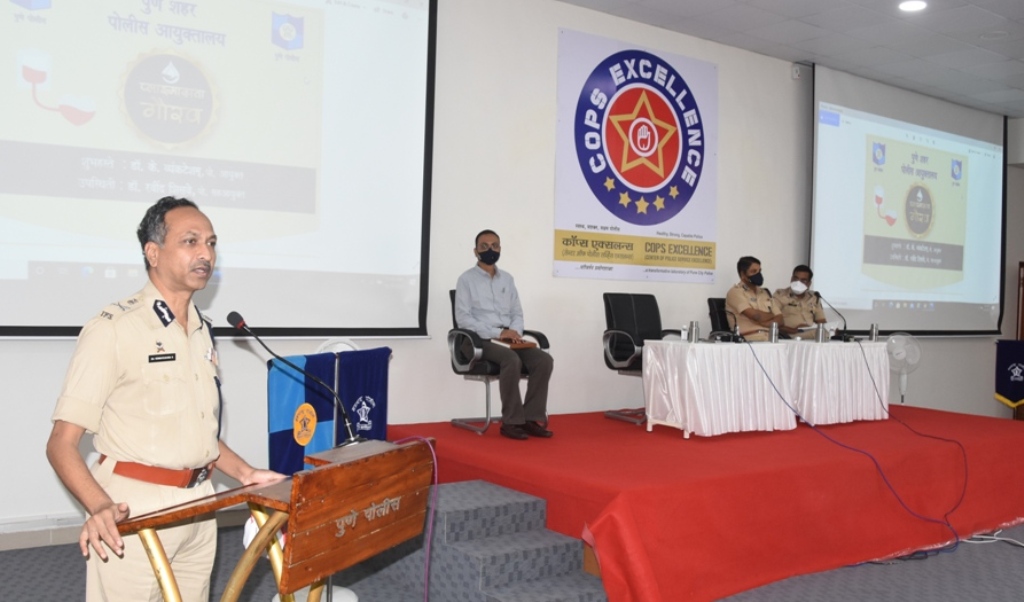 Mehab Qureshi 
Pune, August 29,2020: Expressing concern on the increasing Coronavirus disease (COVID19) patients in Pune city as well as rural areas, Pune City Police Commissioner Dr K Venkatesham has appealed to the recovered COVID patients to donate plasma. Till now 405 recovered patients have donated plasma. 
A 'Plasmadata Gaurav' program was held today at the Police Commissioner office in Camp, where Dr Venkatesham felicitated plasma donors -Karan Randive, Mohim Nalawade, Rahul Tupe, Vaibhav Lodha, Ajay Munot, Rahul Langar, Jamir Sheikh, Avadhut Divate, Vaibhav Bhakan, Kunal Todi and Mohit Todi. 
The City top cop informed that the people who have recovered from COVID19, and now want to donate plasma should register on the website http://puneplasma.in or call Police Sub Inspector Shintre 9960530329. 
"Patients who have fully recovered need to donate plasma. We are implementing this initiative to give it to those who need to build immunity against the deadly virus. It can save a life," Dr Venkatesham said.
While addressing the donors, Joint Commissioner of Police, Ravindra Shiswe said, "This action of yours was vital and saving someone's life is a big job. You should feel as if it is your responsibility, and you should be aware of your family and friends as well. There should be a significant change in society. This campaign should be implemented in urban as well as rural areas."
Deputy Commissioner of Police (Special Branch) Mitesh Ghatte expressed gratitude stating that the Pune City Police has undertaken an excellent initiative called 'Plasma Therapy' to overcome the COVID virus. "Till now 405 donors have come forward to donate plasma. Every patient recovering from the COVID19 needs to donate plasma, only this can lead to a massive change in the recovery rate", he added.
Additional Commissioner of Police (Traffic) Sanjay Shinde, Deputy Commissioner of Police (Headquarter) Virendra Mishra and Deputy Commissioner of Police (EOW & Cyber) Sambhaji Kadam were also present on the occasion.