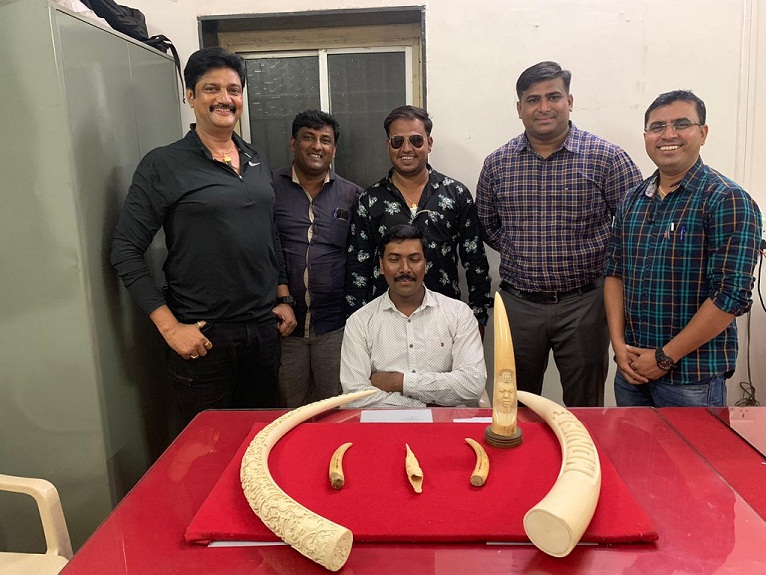 Sumit Singh
Pune, October 3, 2019 : In a major detection, the sleuths from the Crime Branch of Pune city police have recovered three more tusks of elephant, with carvings, and three teeth of unidentified animal.
Acting on tip-off received by policemen Yashwant Khandare and Mohsin Shaikh of Crime Branch unit 2,  a team arrested Bhima Bogriya Mudawat alias Chavan (50) of Ananadnagar, Hadapsar, who hails from Telangana, on September 21. During further investigation, a team led API Jaywant Jadhav seized three more tusks of elephants and three teeth of unidentified animals, said DCP (crime) Bachchan Singh.
An FIR has been registered with Swargate police station against accused person for offences under the Wildlife Protection Act. After his police custody remand was over, he has been lodged at Yerwada Central Jail. Police officials said that some of the antique pieces have been seized from people who used them  as showpieces. The accused had led the cops to such persons.
Further investigation is being done under guidance of ACP Dr Shivaji Pawar by a team comprising Senior Police Inspector Gajanan Pawar, PSI Nilesh Chavan, Ganesh More, ASI Usulkar, head constable Jadhav, Police Naik Bhilare, Gaikwad, Qadir Shaikh, Mitesh Chormale, Swapnil Kamble, Gopal Madane, Jadhav and Farande.
The elephant has been accorded the highest possible protection under the Indian wildlife law through its listing under Schedule I of the Wildlife (Protection) Act, 1972 of India. This means that hunting/trading this species can attract rigorous imprisonment of up to seven years and a minimum fine of Rs 25000.
The ivory trade is the commercial, often illegal trade in the ivory tusks of the hippopotamus, walrus, narwhal, mammoth, and most commonly, African and Asian elephants. Ivory has been traded for hundreds of years by people in regions such as Greenland, Alaska, and Siberia.