Pune: Police seized 236 vehicles, registered 253 cases for lockdown violation today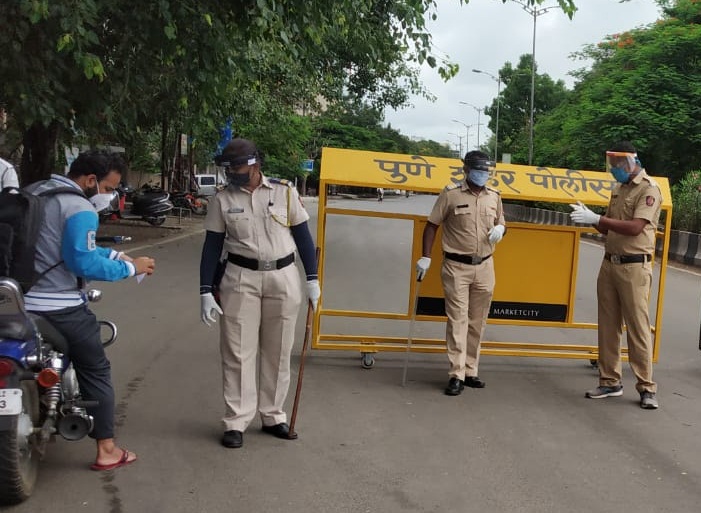 Mubarak Ansari
Pune, 14 July 2020: The Pune City Police have begun the crackdown against people violating the strict lockdown which came into force from today. Police said that the action will continue throughout the 10-days lockdown period from July 14-23.
According to police, today FIRs were registered against 253 persons for an offence under section 188 (disobedience to order duly promulgated by public servant) of the Indian Penal Code (IPC). Also, 236 vehicles were seized, while notices were served to 73 persons. Police also took action against 31 people for not wearing a mask.
Deputy Commissioner of Police (Crime Branch) Bachchan Singh told Punekarnews.in, "We have put 103 nakabandi points in daytime and 55 in the night. We appeal to people to follow the lockdown rule and stay at home."
As per the lockdown rule, only milk selling and its home delivery are allowed besides opening of medical stores and hospitals. Also, industrial units and IT companies (with 15% of staff) are allowed to operate. However, their employees have to get vehicle passes from their companies before travelling. Caretakers for senior citizens and ill persons are also allowed to work with prior permission from police.
Pune police said that pass will be issued medical emergency and essential service through www.punepolice.in website without charging any fee.
CityGlide Auto CEO Rahul Shitole said, "Today we have provided 57 trips to Pune airport through autorickshaw and 30 trips through cabs. We also facilitated 20 passengers travel to Pune railway station. For tomorrow (July 15) we ave already pre-booked 96 trips to airport and station through autorickshaw and 61 trips through cabs."
Know how to travel to airport, railway station or in emergency during lockdown