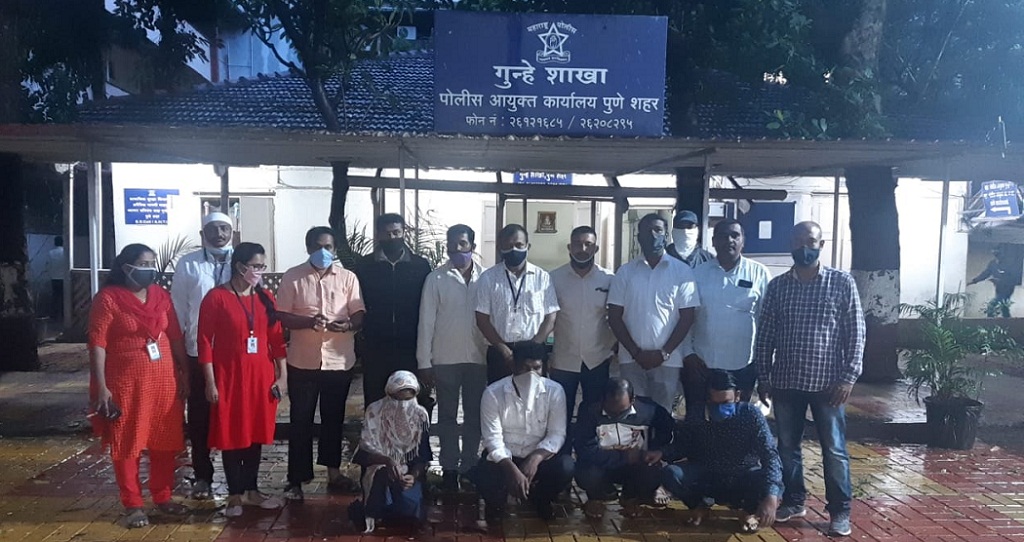 Mubarak Ansari
Hadapsar, June 3, 2020: A shocking incident has taken place in which a Pune city police constable, a self-proclaimed journalist and his accomplices kidnapped a doctor from Hadapsar by threatening to file false molestation case against him. They demanded a ransom of Rs 10 lakhs and released him only after extorting Rs 5.89 lakhs from him. The Crime Branch of Pune City Police has now arrested four persons including the policeman and a woman.
The arrested persons have been identified as police constable Sameer Thorat of Hadapsar, who is posted with police headquarters in Shivajinagar, self-proclaimed journalist Pradip Dnyandev Fasge (37) of Manjari, Kailas Bhanudas Avachite (38) of Hadapsar and Aarti Prabhakar Chavan (29) of Fursungi have been arrested. Based on a complaint from the 40-year-old doctor, an FIR has been registered against seven persons at Hadapsar police station.
According to police, a woman had gone to the doctor's clinic in Hadapsar area under the pretext of a medical check-up on May 31. After her check-up, she suddenly started screaming. Soon two companions of the woman, who were standing outside, came inside the doctor's cabin. The woman accused the doctor of molesting of her. The accomplices threatened the doctor saying they are from police and forced him to sit in a car and abducted him.
They took him to Saswad and then again brought him back to Hadapsar. They confined him in a private office. Two persons who claimed to be journalists asked the doctor to settle the matter as there will be police case and his reputation will be tarnished. They demanded Rs 10 lakh ransom and after negotiations settled for payment of Rs seven lakhs. The doctor collected Rs 5 lakh 89 thousand from relatives and friends and gave it to the accused. After that, he was released in the evening.
The doctor was terrified of all this. Two days later, an acquaintance reported the incident to a police friend. It was then that the Crime Branch officials came to know about all this. An FIR was arrested and four accused persons were arrested today while three are still on the run.
Preliminary investigation has revealed that the accused persons have threatened several senior doctors in this way. They have collected ransoms from them. Police suspect that they are part of an organised crime syndicate and may have extorted money from other professionals also.
Additional Commissioner of Police (crime) Ashok Morale, DCP (crime) Bachchan Singh, ACP Shivaji Pawar supervised the investigation team which included Senior Police Inspector Rajendra Mohite of the Anti-Extortion Cell (ANC), Police Sub Inspector Sanjay Gaikwad, Nitin Shinde and police personnel Prasad Mokashi, Ramesh Garud, Pandurang Wanjale, Hanumant Gaikwad, Mahesh Kadam, Uday Kalbhor, Vijay Gurav, Sunil Chikhle, Firoz Bagwan, Amol Pilane, Mohan Yelpalle and Rupali Karnwar.