Pune: Railway Police Officials Carry Injured Woman On Shoulders For 4 Km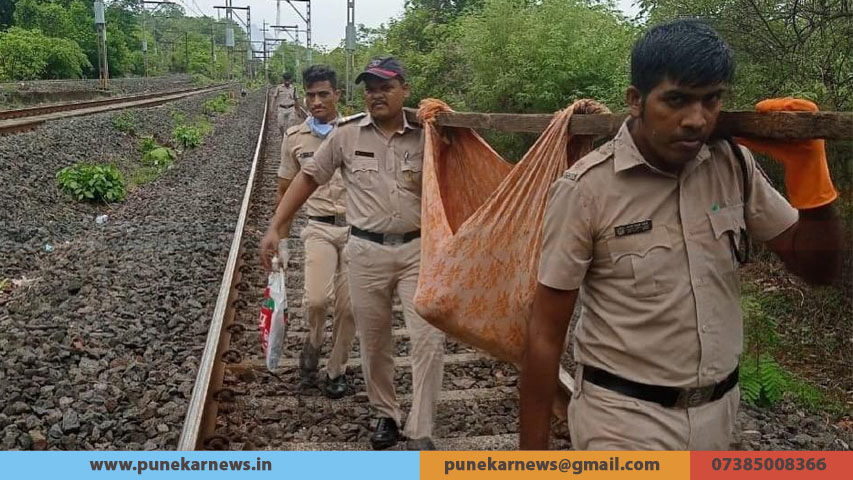 Mrunal Jadhav
Pune, 2 June 2021: Four Railway Police officials rescued a woman found injured near the railway tracks after receiving information regarding the incident. The officials carried the woman in a sack on their shoulders and covered a distance of four km on foot. The injured woman was hospitalized at Sassoon Hospital and is in a stable condition as she received appropriate treatment on time.
The injured woman has been identified as Asha Daji Waghmare (42), a resident of Thergaon. The woman was seen lying near the railway track between 12 noon to 2 pm. After learning about the incident, Government Railway Police (GRP) Superintendent Sadanand Wayse Patil informed PSI Gosavi and policeman Jadhav.
Policeman Jadhav was immediately sent to the spot to rescue the woman and make sure she received proper medical treatment. Jadhav and four porters left for the spot where the injured woman was lying, sitting in a carrier train going to Karjat railway station. Until then, the senior police officer of railways (Pune district) contacted the Karjat railway police station to seek immediate help for the injured as it was closer to the spot.
Police Naik Gangurde from Karjat Railway police station, along with Police Constable Turdar, Constable Gaikwad and a home guard reached the spot. Even though there was no means of transportation, the officials carried the injured woman in a sack on their shoulders, covering a distance of four km on foot. After that, the injured woman was taken in an ambulance from Palasdari railway station to the primary health centre at Karjat, while Lohmarg Pune Policeman Jadhav also reached there.
According to the Railway Police, the injured woman's son was informed about the accident. When inquired about the incident, the injured woman said that she was hit by a speeding train while crossing the tracks and suffered serious injuries.
The action was taken under the guidance of Superintendent of Police (GRP) Sadanand Wayse Patil, Additional Superintendent of Police Kavita Nerkar-Pawar, Sub-Divisional Police Officer Shrikant Kshirsagar, Senior Police Inspector SR Goud, Inspector (Crime) SL Rokade-Saluke.
The team included PSI Gosavi, Policeman Jadhav and PSI of Karjat Railway police station Sarkale, Police Naik Gangurde, Constables Turdar, Gaikwad and a home guard.
The Railway Police is being appreciated everywhere for the swift action and saving the injured woman on time.
Join our Whatsapp Group, Telegram, and Twitter for each update about Pune and PCMC.