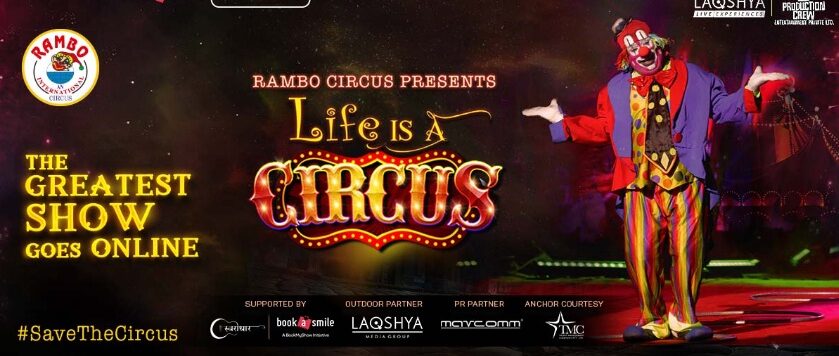 Shikha Chaurasia
Pune, August 29, 2020: Rambo which is India's one of the biggest and oldest circus in India has now taken its magic online. Rambo circus is the first circus in India to do so. Amidst the COVID-19 pandemic, these artists have faced a setback, but now they are fighting back against it and have taken their show- "Life is a circus- An Ode to the Greatest Showmanship" online. It is an hour-long show.
People can now watch the magnificent trapeze artists, contortionists, acrobats, jugglers, clowns and giants on stilts at the comfort of their home.
Sujit Dilip, owner of the famous Rambo circus told The Indian Express, "For children, especially born in the 1980s and 1990s, the circus was a major source of entrainment and joy. Many of us have very fond memories of going and enjoying the shows in a circus. Because of the COVID-19 pandemic, staying at home has become a new normal for the people so we decided to bring the magic of circus online for the children and the adults."
Tickets for the online show have gone up online (on BookMyShow) since Friday and the streaming will start from September 25. Putting up a circus show for online streaming is a completely new experience for circus artists. They are live performers but now they are learning to choreograph their movements in cue with the lights and sounds. At times, they have to hang in mid-air for hours until the scene becomes perfect.
Rambo circus is a family of 60 artistes who are now eager to perform for an online audience. Dilip said, "Many of their artistes had gone home for Holi and after the lockdown was imposed, many of them were still at home and now are sitting idle. Due to the pandemic, many circuses have faced a huge setback and will probably never reopen. So, we are trying to support the artists from other circuses as well as from our own circus."
Dilip has also said that the artistes are very eager and keep calling him to ask if the show will be good and whether people will like it. He said, "We hope the show goes well so that we can support our artistes because one of the major problems for us is that circus artists are not recognized by any Culture Ministry or other government departments."
National Laqshya Live Experiences came up with the idea to go online and organize live shows. The unique part about the show is that the best acts will be dedicated to the frontline workers who are fighting the COVID-19 pandemic.