Pune: Recreating Raja Ravi Varma Portraits!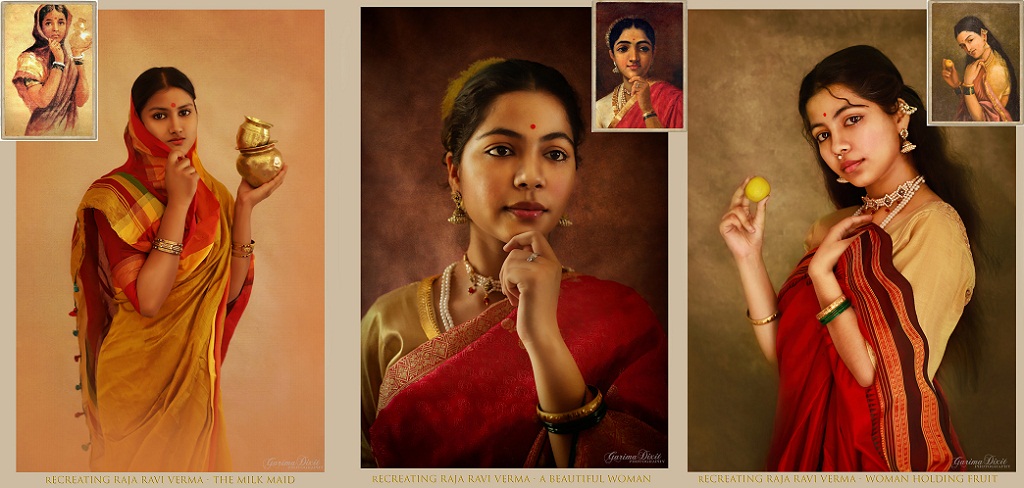 Pune, June 27, 2020: City-based Army wife — a passionate photographer Garima Dixit brings alive the age-old painting through photography by recreating the 19th-century painter Raja Ravi Varma's portraits. Dixit who photographed women from her unit– who are Army and Border Roads Organisation (BRO) wives and daughters adapted the paintings in real and captured it in frames. 
Sharing about her experience and production she said, "I wanted to do the project with the woman next door. So all the women in these photographs are my unit ladies and not professional models. Lots of planning had to be done before the shoot. From jewellery to sarees and the best part of being in the Army is that we have people from each and every corner of the country. So it's not that difficult to find the traditional jewellery and sarees from various parts of India. Once we had everything at the place I started clicking and making these painterly portraits," said Dixit.
Play of lights: Speaking about the artwork of Raja Ravi Varma, the 38-year-old photographer stated that Raja Ravi Varma was master of painting the lights in his paintings. "Each and every painting is done so beautifully. If you observe his work, he painted the light effects in his paintings so well and they look so real and breathtaking. The same goes for a photographer. If a photographer wants to master his/her work, he/she should understand lights whether it's natural or artificial," said Dixit. "I love creating painterly portraits and that's why his paintings of women from India were a big inspiration to me. It was a challenging task," she added.
Baby-steps to photography: The software engineer turned professional photographer started her journey after her daughter was born. "I wanted to capture her each and every milestone. That's when I picked up the camera and started capturing my daughter. Once I shared the Cake smash pictures of my daughter's first birthday on a Facebook mommy group, people liked it so much that I started getting requests from so many moms to get their babies clicked," said Dixit who had left her 14-year-old job at an IT industry to pursue photography. 
"Photography is not just my passion, it's life for me. My day starts with thinking about how to creatively add colours to this mundane life and what exciting can I capture today. I have always been a creative soul, so photography is just an extension of my persona and soul," she said.
(Garima Dixit photography can be followed on Facebook and Instagram)