Pune: Runathon of Hope 2022 won by Upendra Baliyan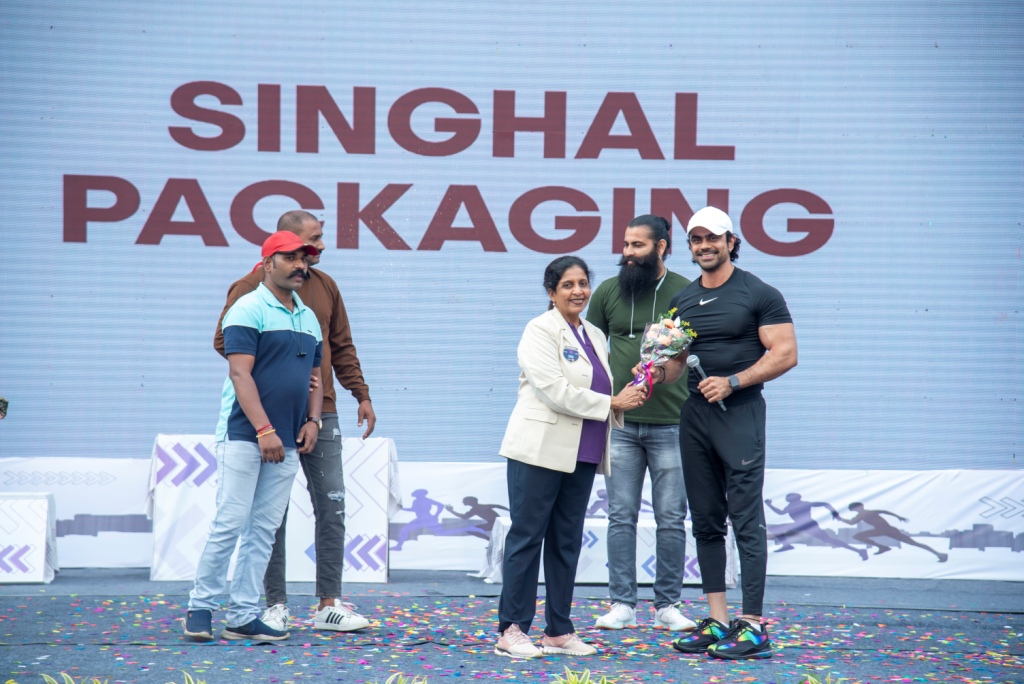 Pune, 25th September 2022: Runathon of Hope 2022, the signature event of Rotary Club of Nigdi Pune, was a grand success with a record participation of 3,500 enthusiastic runners in various categories. The event started at 6am from Sanjay Kale Ground, Nigdi and ended at the same venue.The Runathon 10k run was flagged off by Dr Anil Parmar, District Governor for Rotary District 3131.
The winners in men's 10 km below the age of 45 were
Upendra Baliyan
Yogesh Lakade
Hemank Kumar
The winners in women's 10 km below 45
Reshma Kewate
Pragun Varshney
Shivani Mahajan and Priyanka Gurnani were joint third
The winners in men's10km above 45
Bhaskar Kamble
Goverdhan Meena
Deepak Ochani
The winners in women's: 10 km above 45
Ambika Nanda
Shobha Desai
Chitra Amarnath
The winners in men's5 Km below 45
DinkarMahale
Dayanand Chaudhari
Pravin Gadkari
The winners in women's5 Km below 45
Akanksha Shelar
Yamini Thakre
VrushaliUttekar and Deepika Panchal were joint third
The winners in men's5 Km above 45
Samir Kaliya
Pandurang Patil
Ramesh Chivalkar
The winners in women's5Km above 45
Usha Patil
Payal Gupta
Haripriya Shashishankar
Maharashtra AthleticAssociation judges including Mr Shekhar Kulkarni adjugated the races.
This year prize monies were for under 45 and over 45 age categories. For 10k runs it was Rs. 30,000, Rs. 20,000 and Rs. 10,000 respectively. For 5k runs the prize monies were Rs, 20,000, Rs. 10,000 and Rs. 5,000 respectively.
Credit to the organisers of Runathon of Hope the prize monies for men and women were kept the same.
Ankit Mohan of Farzand, Fatteshikast and Pawankhindencouraged runners to take care of their health and stay fit. Nitish Kamadar the anchor kept the audience engaged throughout the morning.
This grand event was witnessed and welcomed by a large PCMC crowd who were by the roadside to cheer the runners!
Hosted since 2010, Runathon has given a running platform to more than 59,000 runners over the years.
One of the specialties of Runathon is huge interest from corporates to participate, compete and sponsor the event. Bank of Maharashtra, DoubleTree Hilton, Eventzkraft, Decathlon, Allforsport, SKF, ATS Conveyors, Bosch, Europa Locking Systems, GKN Sinter, Tulip Group, Enpro Industries, Pooja Castings,RishabIndustries,Agsa Springs, Jayshree Polymers, Singhal Packaging, Creative Components, GulmoharPacktech, Asmita Engineering, Oerlikon Balzers, Phoenix Mechano, Manipal Hospitals, Mahale, participated wholeheartedly and enjoyed Rotary Club of Nigdi's hospitality at this year's event.
The corporate 5k event was won by Enpro Industries with Creative Components as 1st Runner Up and GolmoharPacktech as 2nd Runner Up.
The individual corporate 5k event was won by Anuj Karkare from Enpro Industries, followed by Rajesh Kamble of Creative Components and Maruti Biradar of GulmoharPacktech.
                                                                                                                                       The funds raised from the Runathon are used for community upliftment projects. In the recent years, Rotary club of Nigdi has donated life savingequipments in Sassoon hospital, Akurdi hospital andMoraya Hospital. Building Water tanks and pipelines in rural areas, school improvements, etc have also made a big difference in the life of the underprivileged. The funds raised from Runathon will be used for projects in Rotary focus areas, to name few- Environment, Water & Sanitation, Basic Education & Literacy, Disease Prevention.
Rotary Club Nigdi President PranitaAlurkar,Secretary Keshav Manage and Runathon Directors Ankaji Patil and Gurdeep Bhogal thanked the sponsors, runners and volunteers for their unmatched support to the event making it a grand success.