Pune: Sachin Khedekar bestowed with Nilu Phule Sanman at Kalarang Mahotsav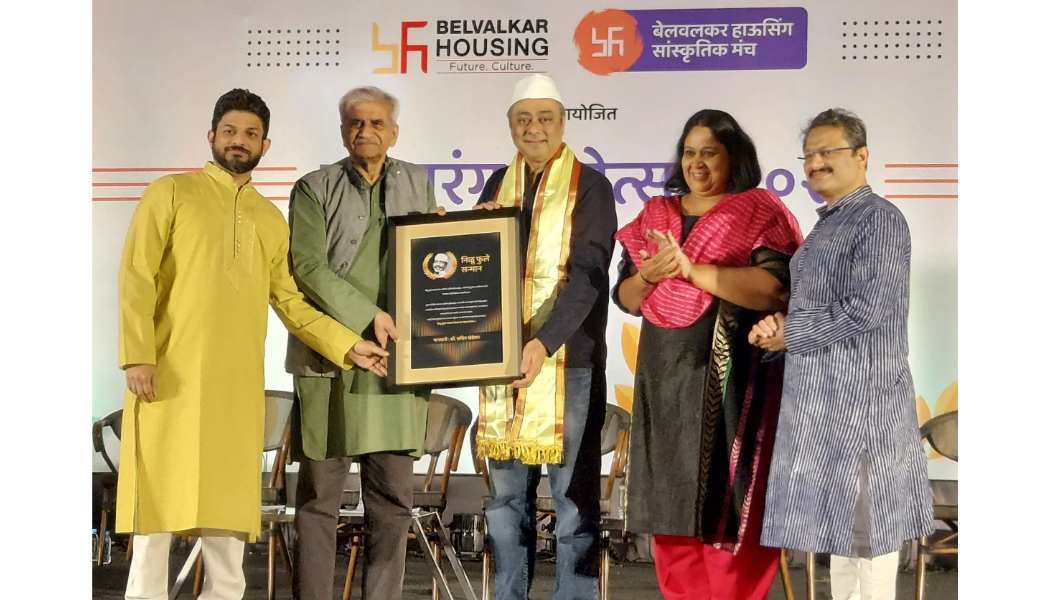 Pune, April 8 2023: Well-known actor Sachin Khedekar was on Saturday bestowed with the 'Nilu Phule Sanman' on the concluding day of the Kalarang Mahotsav organised by Belvalkar Sanskrutik Manch and conceptualized by compeer Rajesh Damle.
Khedekar, who has been working in Marathi and Hindi cinema for the past four decades, was presented the Nilu Phule 'Sanman', comprising a Gandhi cap, a memento, a book on Nilu Phule and Rs 21,000 cash, by veteran filmmaker Dr Jabbar Patel at the Keshavbaug on the DP Road in the presence of Nilu Phule's daughter Gargi Thatte Phule, his son-in-law Omkar Thatte, Sameer Belvalkar and Ajit Belvalkar of Belvalkar Sanskrutik Manch and Rajesh Damle.
The Sanman has been jointly initiated by Belvalkar Sanskrutik Manch and Gargi Phule Thatte.
Speaking on the occasion, Khedekar harped on the importance of reaction of the audience terming it as the real wealth for any actor which should be preserved. He also said that he would like to be a "simple man" just the way Nilu Phule was one.
"I have worked in all three mediums, theatre, films and television. The reaction for the audition is real wealth and that should be preserved. Cheques of the audience reaction should be made as they are the real wealth. Nilu Phule was a simple man and a big actor. It is still time for me to become a big actor. I will always strive to be a simple man," Khedekar said.
"It is a special day for me. Getting the Sanman is a huge blessing for me and so it is a very special occasion. Consistency was important in this field and that played a key role in my career," Khedekar said after receiving the Award.
Dr Jabbar Patel showered praise on Sachin Khedekar as an actor.
He also recollected anecdotes about Nilu Phule, with whom he had directed in movies like "Sinhasan".
"I recollect that Nilu Phule insisted he wanted to play the character of a journalist in the film. Vijay Tendulkar, who wrote the screenplay for Sinhasan, had remarked that Nilu Phule excelled in the film," Dr Patel recollected.
Gargi Phule-Thatte said the new generation should know about Nilu Phule, the actor.
The opening remarks were made by Sameer Belvalkar.