Pune: Sewak Nayyar's Bolen To Modi Jaise Released By KJS Chauhan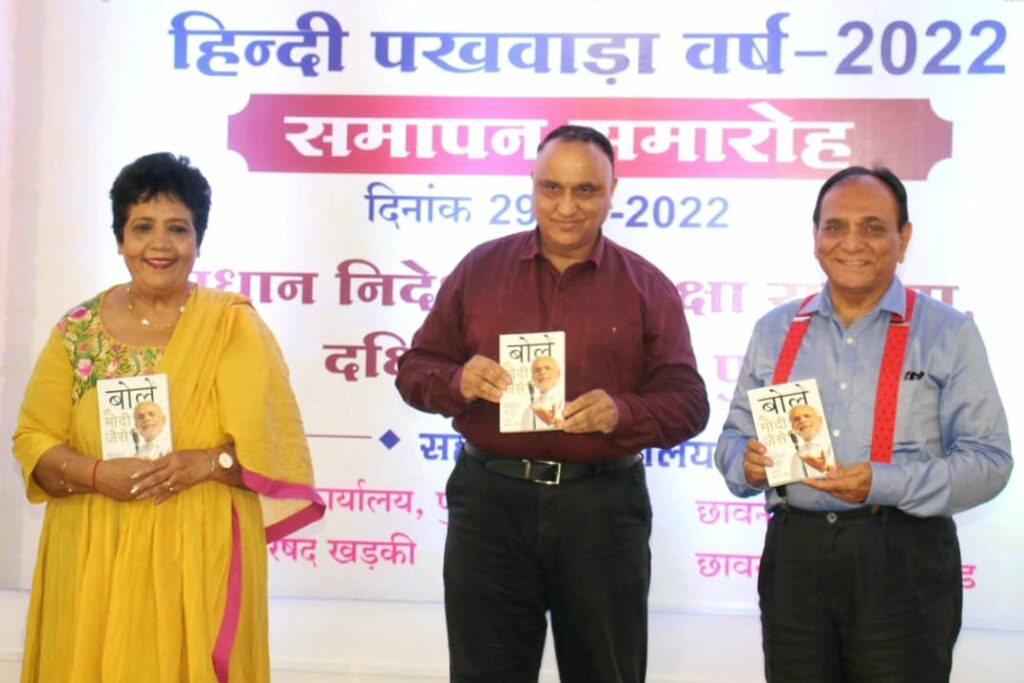 Khadki, 30th September 2022: Sewak Nayyar's latest book titled 'Bolen To Modi Jaise' (बोलें तो मोदी जैसे), the Hindi translation of Virender Kapoor's famous book 'Speaking the Modi Way' was released on 29th September by Shri KJS Chauhan, IDES, the Principal Director, Defence Estates, Southern Command, Pune. The book was released at a function organised by his office in Regional Training Center, Khadki, to mark the closing ceremony of Hindi Pakhwada. Nayyar was also honoured along with Shri Shukl, a Hindi poet, and the Swatantra Theatre Group for their outstanding contribution to the promotion and propagation of Hindi.
Published by Rupa, 'Bolen to Modi Jaise' is a beautiful treatise on the art of public speaking. It presents a detailed study of Prime Minister Modi's outstanding qualities as an orator. Modi's excellent oratorial skills are well known, not just in India but all over the world. He has brought a whiff of fresh air to the art of oratory and altered the lexicon of rhetoric and eloquence with his sheer brilliance and fluency. Addressing everyone from schoolchildren to the houses of US Congress, Modi has touched billions of hearts.
'Bolen to Modi Jaise' shows us how to speak, persuade and motivate like Modi. It begins with an analysis of his inspiring rise from humble origins to the post of Prime Minister. The book shows us how Modi always appears to speak from the heart, uses facts and figures to substantiate his arguments, makes optimum use of similes, metaphors and word puns, and tailors his speeches according to his audience.
Prizes were also distributed to the winners in various literary and cultural competitions held by the offices of the Cantonment Boards of Pune, Khadki and Dehuroad and the Pdde and DEO office.