Pune: Shock For Osho Friends And Disciples In India And Around The World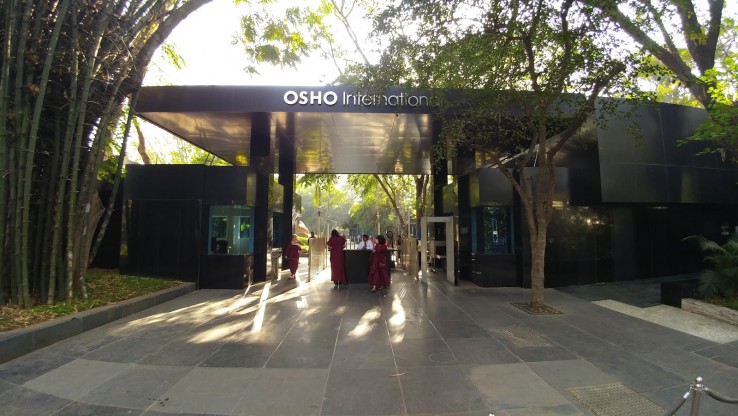 Pune, 27th October 2022: The recent order of 10th October 2022 from the office of the Charity Commissioner of Mumbai has shocked Osho lovers in India and abroad. This shock is due to the special permission given to Osho International Foundation (OIF) in Pune for a new bid to sell part of Osho's legacy, His Ashram (now called Osho International Meditation Resort) – namely plots numbers 15 and 16 in Koregaon park, Pune. This part of the land (quite close to Osho's Samadhi area) has an Olympic size swimming pool and tennis court and is called Osho Basho. This order has been issued while the hearing on the last bid process that was started in July 2020 by OIF is still in process at the same Charity Commissioner of Mumbai office.
The swimming pool and tennis court area were developed as per Osho's instructions. His guidance was that for many sports like swimming and racquet play, which can become doorways to meditation. His insistence was that modern man will require modern methods to bring him to meditation. Over the last decades, thousands have participated in meditation in this part of the Osho Ashram and there is a special energy field created here, noticeable even to the first-time visitor. Therefore, plots 15 and 16 are indivisible units of a living energy field that Osho created for humanity and selling and re-purposing any inch of the land will be an irreplaceable loss for those interested in spirituality and inner search.
Despite knowing the importance of this energy field well, in July 2020, a hasty and incomplete bid process was executed by OIF under the cover of COVID closures to sell Osho Basho and an MOU was signed with the highest bidder, Rajiv Bajaj, for this sale. An advance amount of Rs 50 crore was taken from Bajaj by OIF. This was before the permission to sell was secured from the Office of the Charity Commissioner Mumbai, which is the due process of law. The reasons cited for this sale were losses of Rs three crores incurred due to property closure during COVID and to build a corpus fund for such future calamities. The four trustees who signed this MOU on behalf of OIF are Mukesh Sarda, Pratap Singh, Devendra Dewal and Sadhana Belapurkar.
In January 2021, many sannyasins began to hear about this sale and were outraged. For the last 12 years, two Osho sannyasins Sw. Premgeet (Yogesh Thakkar) and Sw. Anadi (Kishore Rawal) have been stalwarts in opposing various OIF actions to diminish Osho's Koregaon Park Ashram. Starting in March 2021, other sannyasins and Osho friends began to join the two of them in this protest. The protest was made public via social media, meeting political and bureaucratic stakeholders and running a massive email campaign. 28 sannyasins also legally intervened to object to the sale of Basho by making applications with the Charity Commissioner.
In July 2022, one Osho Sannyasin, Sw. Yog Sunil (Sunil Mirpuri) made an application to the Charity Commissioner asking for the hearing on Osho Basho to stay pending the investigation of the operations of the Trust and the OIF Trustees themselves. This application was partially accepted allowing Sunil to approach the High Court. In the meantime, in August 2022, the High Court (where Yogesh Thakkar/Kishore Rawal have been seeking relief and justice on related matters of misappropriation of funds, negligence, discrimination towards other Osho lovers, etc.) issued an order that asked for an investigation of the Trust's operations before any alienation of property was allowed. It did say that any alienation that is underway can continue to proceed as per the due process of law.
Then in October, the Charity Commissioner Mumbai issued this order (that seems an overplay of her jurisdiction and in partial opposition to the orders of the High Court) that asks for fresh bids for the sale of Basho. Bids will be opened on the 15th of November in her presence. Suddenly, there seems to be an override of process, an unseen urgency and speed and bias.
Osho sannyasins have filed petitions in the High Court asking for the cancellation of the sale completely. There is a lot of work happening on the ground in responding to this outrageous development. However, a lot more can be done with additional resources and support.
Join Punekar News Whatsapp Group, Telegram, Instagram And Twitter  For Regular Update about Pune City And Pimpri-Chinchwad
Also Read Political News On Sarkar Khabar