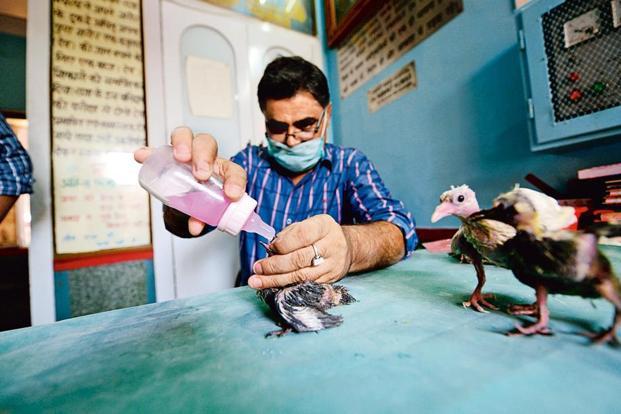 30 Jan 2020, Pune: "Several incidents of bird injuries happen in and around the city. They die due to not getting the treatment. To address this issue Pune will soon get it's first bird hospital. Within a year a good hospital for bird treatment will be in service." Tells Sarvajeev Mangal Pratishthan's founder and renowned heart specialist Dr. Kalyan Gangwal.
On the occasion of his 75th birthday, Dr. Kalyan Gangwal who has been working for vegetarian, addiction free society for more than 50 years now, was felicitated in the presence of dignitaries and relatives. The felicitation program took place at Munot Hall in Patrakar Nagar. Dr. Kalyan Gangwal's wife Dr. Chandrakala Gangwal, journalist Sunil Mali, corporator Aaba Bagul, Secretary of Maharashtra Vidyarthi Sahayak Mandal, Dr. Vikas Aabnaave, Adv. Prakash Sharma who has been working in the field of animal rights, representatives of jain samaj, Milind Fade, Devendra Bakliwal, Prakash Badjatya, Cancer Specialist Dr. Manish Jain, Dr. Gangwal's friends and representatives of various Social organisations were present for this ceremony.
Dr. Kalyan Gangwal further said, "I have been consistently working towards the goal of vegetarian and addiction free society for almost 50 years now. On the occasion of 75th birthday, I make a resolution to build Maharashtra's first bird hospital in Pune for the treatment of Injured and sick birds.
In this ceremony, Sunil Mali, Dr. Vikas Aabnave, Adv. Prakash Sharma talked about Dr. Gangwal and work that he has been doing. Dr. Anand Gangwal was anchor for the event. Dr. Paritosh Gangwal thanked the attendees.