Pune to host first International Sports Expo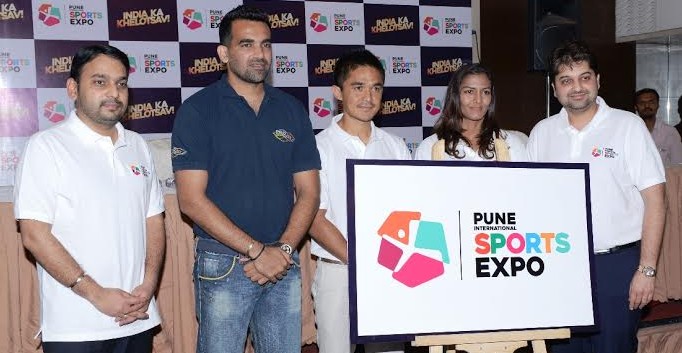 To take place between May 5thand 8th at the Agriculture College Ground
First of its kind platform to showcase all segments of sports under one roof
A melange of Sports industry, academia, sportsmen and service providers
Pune, March 10: After having established itself as a hub for education, auto industry and information technology, the city of Pune is now set to strengthen its claim for being recognized as one of the most important sports centres of the country by hosting India's first ever international sports expo.
Steps Sports Entertainment Private Ltd, founded by educationist, sports enthusiast and administrator Dr. Vishwajeet Kadam shall be organising the first ever 'Pune International Sports Expo' (PISE) at the Agriculture College Ground, Sinchan Nagar between May 5th & 8th. An announcement to this effect was made during a Press Conference held in the city today.
The logo of the expo was formally unveiled on the occasion at the hands of eminent personalities from the world of sports including former Indian Cricketer Zaheer Khan, Captain of the Indian Football Team Sunil Chhetri, and Geeta Phogat, India's first woman to win a gold medal in wrestling at Commonwealth Games along with Vishwajeet Kadam and Vishal Chordia, Co-Founder of Lakshya Foundation, a sports NGO.
Parag Shidhaye, CEO – PISE and Core Committee Members of PISE including Mandar Tamhane, Sunandan lele and Ashish Pendse were also present on the occasion.
This first ever international sports expo of the country shall be organized on a grand scale in an air-conditioned pavilion and shall attempt to unfold the enormous hidden potential of sports as a segment for career, fitness and recreation and as a growing industry in India. The expo will have about 200 exhibitors presenting the latest in sports equipment, apparels and sports related services under one roof.
Speaking on the occasion Dr. Vishwajeet Kadam said, "PISE will truly be an international platform for sports related brands in products and services and help them in getting directly connected with sports consumers from all over the country."
"It will comprise of participants from segments such as sports goods, sports apparel, fitness equipment and gear, sports education, sports real estate, adventure sports and sports nutrition. Moreover, it will have an exclusive demonstration area and a dedicated time slot for showcasing the innovations in sports, primarily relating to training equipment and services", he added.
Cricketer Zaheer Khan's Pro Sport Fitness and Services will have a special association with PISE and thus it will be a part of the many sports related activities during the expo. Pro Sport Fitness and Services is dedicated to improving lifestyles through fitness, health and nutrition programs.
PISE will not only offer numerous opportunities for sportsmen and enthusiasts to see the latest technologies in products and services but will also act as an effective platform for exchanging ideas, experience sharing and brain storming for bettering the sports scene in India.
Apart from the mega exhibition, PISE will also be loaded with rich intellectual content with plenty of seminars, panel discussions and talks on various aspects of sports like sports medicine, injury management, physiotherapy, sports science and nutrition by veterans from various fields.
Most of these sessions would be free and shall be open to all. A national level summit of coaches and managers is also on the cards during PISE.
A fashion show, an experience zone to get the first hand feel of modern technologies, especially simulators of popular games and adventure sports, and an interesting show of body builders would be some of the many attractions at PISE.
PISE will conclude with a special program titled as 'Kick off Mission Rio', where medal winners from Para and Special Olympics will be giving best wishes to the sportspersons who would be participating in the upcoming RIO Olympics.
The advisory committee of PISE includes Hemant Bendre, Uday Sane, Rajeev Datar, Prasanna Chaudhari, Sunder Iyer, Abhijeet Kunte, Kaustubh Radkar, Kamlesh Mehta, Shubhangi Kulkarni.