Pune TV felicitated 100 Women icons of Maharashtra to mark the International Women's Day 2023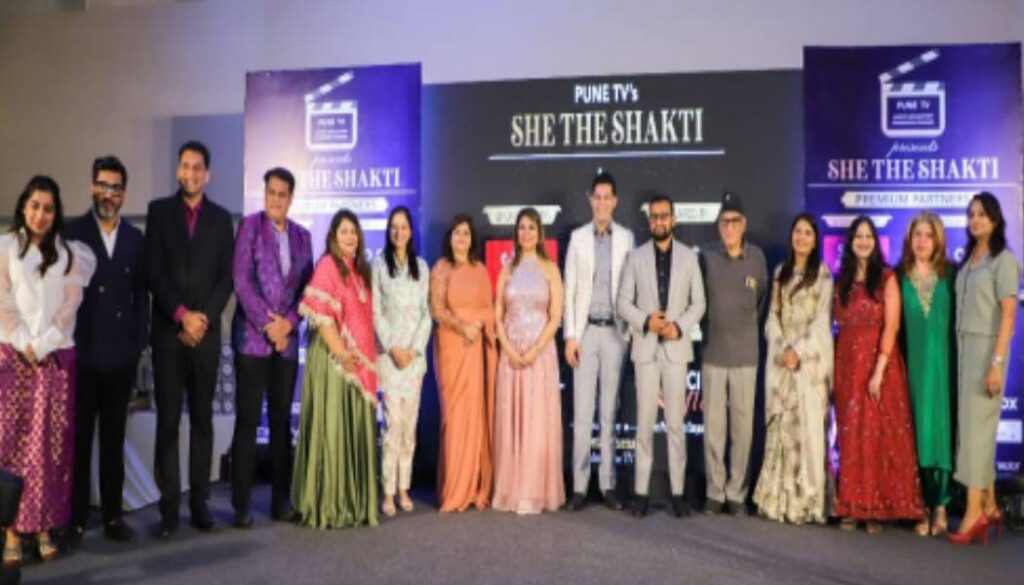 Pune, 20 March 2023: In celebration of International Women's Day, Pune TV (former Woman TV), headed by founder Shweta Saxena, felicitated 100 powerful women in the city. The non-commercial Awards ceremony was conducted under the title 'She The Shakti!' and the awardees included professionals from various sectors such as healthcare, hospitality, media, FMCG, and so on.
'She The Shakti!' is inspired by the power that resides in every woman to win her battles, and the award was given to appreciate her commendable effort to bounce back from the pandemic. The event was held on March 11, at Novotel Pune Hotel, Nagar Road.
Sheetal Biyani, the founder of Sheetal Creations, a fashion brand that is dedicated to providing employment for the underprivileged & differently able women, was the chief guest. Sheetal was recently interviewed by the National Doordarshan channel in Delhi for a Women's Day special show.
Legendary Actor and a senior Psychiatrist Padmashri Dr. Mohan Agashe graced the event as the celebrity guest while Jyoti Nagpurkar who is a senior, child counsellor and an ex-officer of Mantralaya in Mumbai was the guest of honour.
The ceremony was conceptualised by Shweta Saxena, a senior branding Psychologist and a brands filmmaker. She sincerely aims to build a tightknit community of Sisterhood through her pledge 'Women For Women' in India, Australia, Switzerland and UK.
Some of the notable Awardees were Pratima Kirloskar, Sanjana Desai Director, Mother's Recipe; Zelam Chaubal, Director, Kesari Tours; Shweta Agarwal, MD, Bavaria Group of Companies; Laleh Busheri, CEO Prashanti Cancer Care Mission and many more.
She is an early-stage Endometrial Cancer Survivor and strongly believes in "There is a bit of 'me' in every 'She'. Saxena further says, "I am proud of all these women who have been felicitated. When we say 'women for women', we mean to see a bit of ourselves in every woman out there so that we handhold them in their battles, celebrate their achievements, and support them as they walk ahead in their respective journeys. Great things happen when women come together and support each other."
A special address was delivered by siblings Vishwa, Shiv, Adi and Adya Chordia who are the next generation of spice empire Suhana, who also wholeheartedly distributed gift hampers to each Awardee & Hon Guests.
Asha Ranka delivered a heartfelt note on behalf of luxury brand 'Chosen by Tejpal Ranka' to the audience. She and Ishita Ranka went an extra mile by having a few Chosen women adorn themselves with fine diamond jewellery throughout the ceremony and made them feel like the Chosen Queens on their special day!
The non-commercial awards ceremony was sponsored by Suhana and presented by Chosen by Tejpal Ranka. The event was supported by various partners including Novotel Pune luxury hotel, FICCI FLO Pune, The Eco Factory Foundation, EMbox, MaxOshine, Kirti Agarwal & Prashanti Cancer Care Mission.
To demonstrate the positive message of positive feminism and encouraging men supporting women, some of the awards were handed out by Presenters such as Abhishek Kulkarni, Sandeep Dharma, Lucky Surana & many more.