Pune : Two Army Jawans killed, 9 others injured at College of Military Engineering (CME)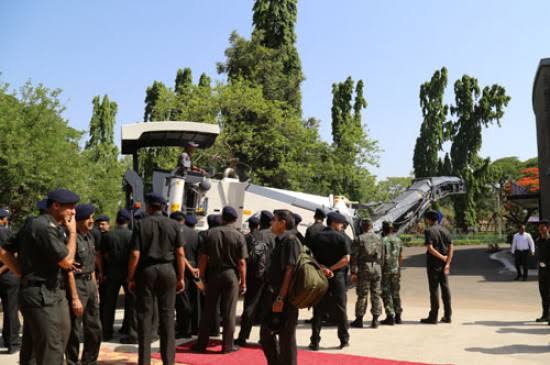 Pune, December 26, 2019: In an accident during bridge construction training, two Army Jawans were killed while nine others sustained injuries at the College of Military Engineering (CME) in Dapodi, today.
The incident took place around 11.30 am when the troops were undergoing training. During the training of bridge construction, the tower support collapsed and 11 troops including a Major rank officer got injured and were immediately shifted to Military Hospital (MH), Khadki and Command Hospital (CH), Pune.
According to officials, Lance Havildar Sanjivan PK from Kerala and Naik BK Waghmode (28) of Daund sustained serious injuries and lost their lives during the treatment. A Court of Inquiry has been ordered for investigating the incident and the Next of Kin (NOK) of the deceased soldiers have been informed.
The College of Military Engineering (CME) at Pune, a premier tactical & Technical training institution is the alma mater of the Corps of Engineers. 'First into the battle and last out of it', the Corps of Engineers comprises of the Combat Engineers, Military Engineering Service, Border Roads Organisation and Survey. The College traces back its existence to the erstwhile School of Military Engineering (SME) established in 1943 at Roorkee. The set up moved to the present location at Pune in 1948. In view of the increased responsibilities and in keeping with the higher status of the Degree Engineering Courses being conducted by the School, it was re-designated as CME in Nov 1951.
Located in lush greenery, CME has a sprawling campus with abundant flora, fauna & water bodies. The College is a self contained institution, with complete infrastructure required to train and accommodate all the students and the staff. It has all the facilities for imparting theoretical as well as practical training, sports and administration. CME offers an ideal environment to everyone to enhance their technical and tactical brilliance and to pursue all kinds of adventure activities.
CME is responsible for training of personnel of the Corps of Engineers besides imparting instructions in Combat Engineering, CBRN Protection, Works Services & GIS matters to the personnel of All Arms & Services. The College conducts a variely of long & short courses to include M Tech and B Tech courses. The College also houses Cadets Training Wing a premier Pre Commission Training institute for training of Gentleman Cadets under the 10+2 Technical Entry Scheme.