Pune University students create world record in distribution of Neem saplings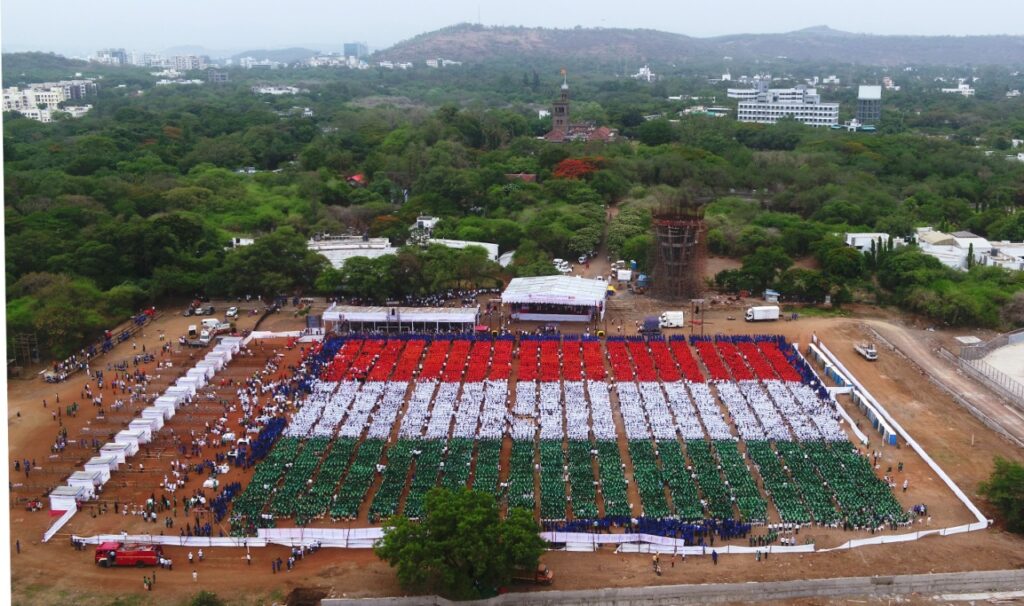 Pune, June 23:- "The 'Swachh wari- Swasth Wari- Nirmal Wari –Harit wari' campaign is important for maintaining the balance of the nature. The efforts taken by the national service scheme (NSS) students for making the record of distribution, planting and caring of the Neem saplings (Azadirachta Indica) and registering it with Guinness Book of World Record had brought the name of India on the global map. All those who have participated in this campaign had created history", said Chief Minister Mr DevendraFadnavis.
The 'Swachh Wari -Swasth Wari- Nirmal Wari- harit wari' program was jointly organized by the Maharashtra government national service scheme (NSS)  division and Savitribai Phule Pune University in join collaboration at the Pune University Campus. Chief Minister was addressing the gathering after the inauguration of this campaign. Guardian minister Chandrakant Patil, minister of state for water resources Vijay Shivtare, mayor Mukta Tilak, MP Sanjay Kakade, MLA Dilip Kamble, Mahesh Landge, Madhuri Misal, Medha Kulkarni, Vice- Chancellor of Pune University Dr Nitin Karmalkar, Pro Vice-Chancellor Dr N S Umrani, management Council president of University Rajesh Pandey, registrar of University Dr Prafull Pawar were also present on the occasion.
Speaking further, the Chief Minister said that the pilgrimage to Pandharpur "Pandharpur Chi Waari" is an unprecedented festival in the history of the entire world. This pilgrimage has a tradition of 700 years. People from all walks of life and various parts of the nation come here without any invitation from the objective of religious devotion. They don't expect anything in exchange. They only want to visit Panduranga, so they are not afraid of anything and are free from any sort of fear.
Mr Fadnavis said that the work undertaken by the NSS students for assisting the Warkari is really a good move and they are going to play important role in this social activity. The Chief Minister congratulated the students of NSS for making the record of planting the Neem sapling and taking care of them so that they survive. They also made record with the Guinness book.
He said, "Baaz ki asli Udaan abhi baaki hai…… Tumhare iradon Ka Imtihan Abhi Baki Hai…. Abhi to naapi Hai hai Mutthi Bhar Zameen Tumne……. Abhi to pura Aasman Baki Hai Encouraging the NSS students he said that as Sachin Tendulkar had been intrumental in breaking his own record in the world of cricket, similarly, the NSS students should break their own record in future.
Speaking on the occasion Guardian ministers Chandrakant Patil said that due to this campaign, the pilgrimage will be cleaned and healthy (Swachh Wari- Swasth Wari). He said that many records of India had been registered with Guinness Book of World Record in the past, but this record which was created today by the distribution planting of Neem saplings is important than other records. He said that five lakh raincoats are going to be distributed to all the pilgrims who are going to participate in the Pandharpur Wari. He also asserted that all the possible facilities will be provided to this pilgrims through the entire route.
Chief Minister Mr Fadnavis administered the Oath of this campaign to all the students present on the occasion. He also felicitated the coordinator of Guinness Book of World Record Milind Warlekar for his excellent job. Rajesh Pandey gave the introductory speech. Sanjay Chakne conducted the proceedings. Director of NSS Dr Prabhakar Desai proposed the vote of thanks.
 Salient features:-
* Students of the University and affiliated colleges will be going to implement new ventures on the 'Palki' route under the NSS
*20,000 students of Pune University NSS were distributed saplings of Neem
*Cleanliness drive to be undertaken on the Pilgrimage (Wari) route.
*Fiv lakh plates made of leaves will be distributed to pilgrims.
* 700 Tons of wet garbage will be gathered
* 3 ton organic fertilizer will be produced
* 35 lakh liter water will be saved.
* Health checkup and care of one lakh pilgrims.
* Physiotherapy service to 35 thousand pilgrims
* One lakh pilgrims will be distributed spectacles
* Awareness of two lakh pilgrims and villages will be done through Street plays
* 20,000 saplings will be planted on 'Wari route' and care will be taken so that they survive.
* Public awareness will be created about disaster management.