Pune: "Walk United for Heart" Event Celebrates Success in Promoting Heart Health on World Heart Day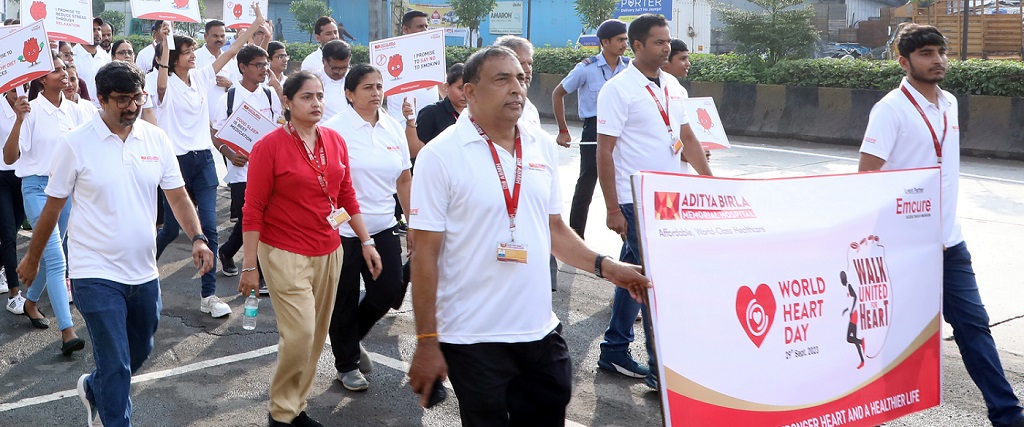 Pimpri Chinchwad, 29th September 2023: Aditya Birla Memorial Hospital proudly announces the successful conclusion of the "Walk United for Heart" event held today on September 29, 2023, in celebration of World Heart Day. This heartwarming community initiative gathered participants from all walks of life to raise awareness about heart health and inspire a commitment to cardiovascular well-being.
The event, themed "Walk United for Heart," showcased the dedication of the community to prioritize heart health. Participants embarked on a 3.1-kilometer journey, symbolizing their commitment to a heart-healthy lifestyle. The walkathon route from Aditya Birla Memorial Hospital to Dange Chowk and back served as a testament to the unity and determination displayed by the participants.
The event's schedule unfolded seamlessly, with participants gathering at Aditya Birla Memorial Hospital in the early morning. Registration and the distribution of walkathon T-shirts took place from 6:30 AM to 7:10 AM, followed by the official flag-off ceremony at 7:10 AM.
The heart-healthy walk commenced at 7:15 AM, lasting approximately 45 minutes. It was an uplifting experience as participants took strides toward better heart health, accompanied by supportive cheers from fellow participants and spectators.
Following the invigorating walk, participants were treated to an exciting Zumba session that added a vibrant rhythm to the event's conclusion. The combination of a heart-healthy walk and an energetic Zumba session highlighted the importance of enjoyable physical activities in maintaining cardiovascular well-being.
The Closing Ceremony at 8:15 AM was a moment of joy and celebration. Participants shared stories of their journey and the positive impact on their heart health. 
"We are thrilled with the success of 'Walk United for Heart'," said Rekha Dubey, CEO, Aditya Birla Memorial Hospital. "The enthusiasm and commitment displayed by our community are truly heartwarming. We hope this event serves as a reminder that every step taken toward a healthier heart matters."
The event garnered positive feedback from participants, who expressed their appreciation for the opportunity to promote heart health within the community. Participants left the event with a renewed sense of purpose and commitment to maintaining cardiovascular well-being.
Aditya Birla Memorial Hospital extends its gratitude to all participants, sponsors, and volunteers who contributed to the success of "Walk United for Heart." The hospital remains committed to promoting heart health in the community and looks forward to future initiatives aimed at creating a heart-healthy society.