PYC Gymkhana A lifts S P Gosavi Memorial Inter Club Tennis Championship 2023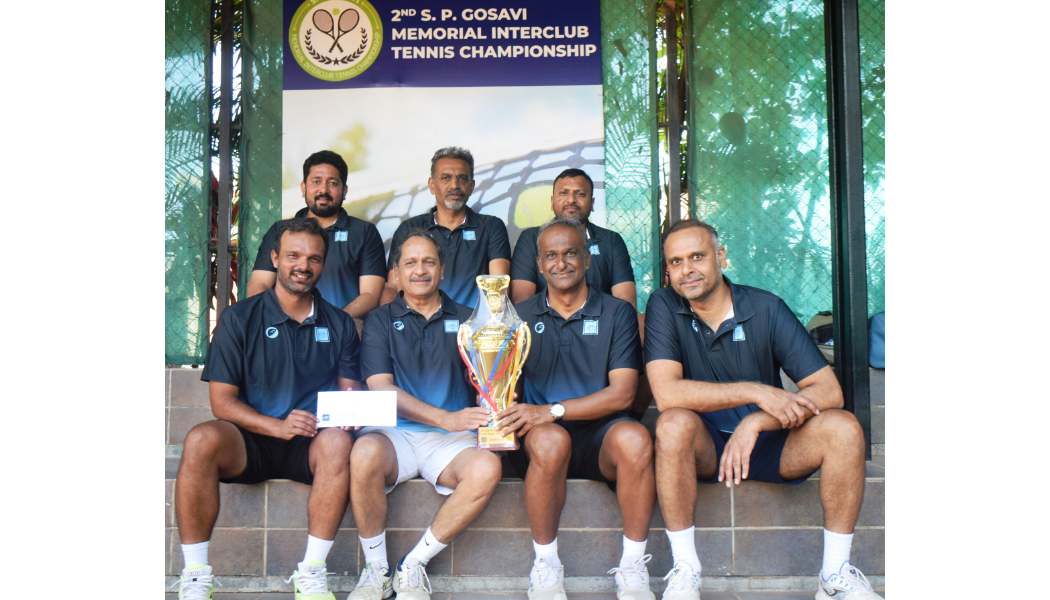 Pune, March 27, 2023: PYC Gymkhana A scored a 16-9 win over PYC Gymkhana B to emerge champions at the SP Gosavi Memorial Inter club Tennis Championships which is being organized by the PYC Hindu Gymkhana and the Pune District Tennis Association(PMDTA) on the PYC Hindu Gymkhana Tennis courts.
In the match for the 3rd and 4th Place FC Guns and Roses edged out Tennis Nuts 27-26 super tiebreak.
PYC A and PYC B will represent Pune Zone in the MSLTA interclub Championship at Panchgani from March 29-April 1
The winner team PYC A received a trophy and Rs.25000/-, while runner up PYC B got trophy and Rs.15000/-. The prizes were given away at the hands of Mr.Kumar Tamhane, President of PYC Hindu Gymkhana, Mr.Sarang Lagu, Hon Secretary of PYC Hindu Gymkhana and Dr. Sudhir Bhate, Former president of PYC Hindu Gymkhana. Mr.Sunder Iyer, Hon Secretary of MSLTA, Mr. Himanshu Gosavi, Avani and Tanaya Gosavi, Mr.Abhishek Tamhane were present on the occasion.
Following are the results: Final Round: Elite Division:
PYC A bt PYC B 16-09(110 Plus: Rajesh Kasat/Jayant Kadhe bt Amit Natekar/Prashant Gosavi 6-5; 100 Plus: Himanshu Gosavi/Kedar Shah bt Radhika Mandke /Sunder Iyer 6-1; 90 Plus: Anup Minda/Rutu Kulkarni bt Yogesh Pantsachiv/Aniruddha Sathe 6-3; Open Group: Abhishek Tamhane/Ketan Dhumal vs Amogh Beharay/Rohit Shinde ); Player of the tie: Rajesh Kasat;
3rd and 4th Place:
FC Guns and Roses bt Tennis Nuts in super 27- 26(110 Plus: Sanjay Raskar/Pushkar Peshwa lost to Amit Kindo/Shreeshah Bhat 4-6; 100 Plus: Shailesh Patwardhan/Pankaj Yadav bt Sunil Lulla/Jitendra Joshi 6-3; 90 Plus: Dhananjay Kawade/Deshpande lost to Alok Nair/Sandeep Belludi 3-6; Open Group: Sangram Chaphekar/Vaibhav Avghade bt Joy Banerjee/Ravi Kothari 6-4; Supertiebreak: Sangram Chaphekar/Vaibhav Avghade bt Sandeep Belludi/Joy Banerjee 10-7). Player of the tie: Sandeep Belludi;
Other Prizes:
Player of the tournament: Sangram Chaphekar;