Raina , Thandi in round two of 22nd edition of NECC Deccan ITF $40000 Women's Tennis Tournament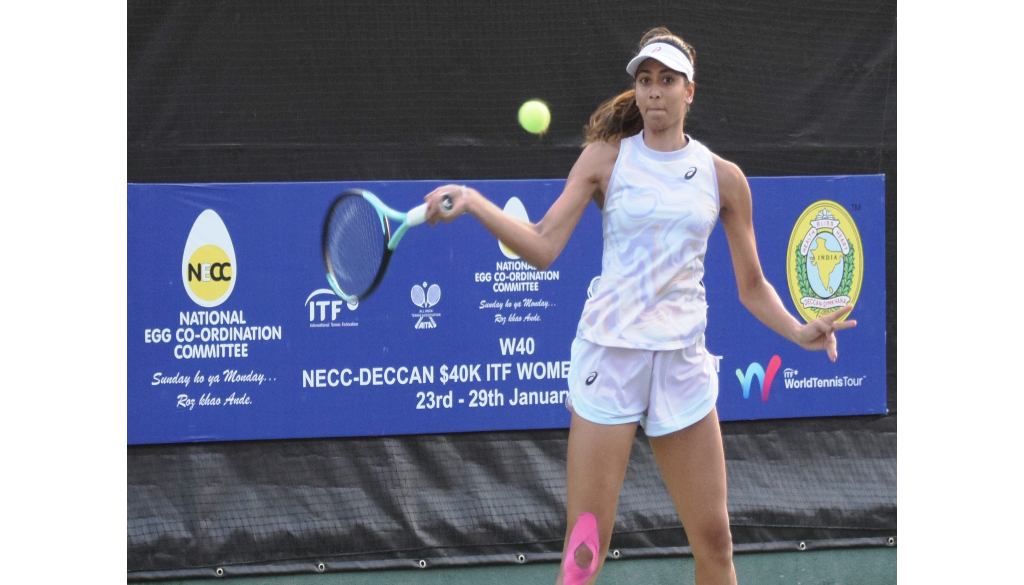 Pune, January 24, 2023: Eighth seeded Ankita Raina and Karman Kaur Thandi moved into the second round with contrasting wins in the opening round of the 22nd edition of the NECC Deccan ITF $40000 Women's Tennis Tournament India's longest-running international tennis tournament organised under the auspices of the ITF, AITA and MSLTA by Deccan Gymkhana and sponsored by National Egg Coordination Committee (NECC) at the Deccan Gymkhana Tennis Courts.
In the opening round eighth seeded Ankita led 3-0 before Wildcard Shrivalli Bhamidipathy conceded due to bad health , India No 2 player Karman Kaur Thandi was given a fight by country mate Sahaja Yamlapalli before winning 6-7(6), 6-4,6-1 in the longest match of the day.
In the other matches featuring Indians sixth seeded Irina Khromacheva and former winner here outwitted Akanksha Nitture 6-1, 6-1 . In an interesting match Chinese Taipei's En Shuo Liang came back from being a set down to oust another Wildcard Vaidehi Chaudhari 2-6, 6-1, 6-1
In a match involving the fourth wild card and local girl Vaishnavi Adkar. Squandered a 5-4 lead and went down to qualifier Tina Nadine Smith of Australia , the qualifier snubbed Adkar 7- 6(2), 6-2. In the lone upset of the day qualifier Eri Shimizu of Japan upset fifth seeded Ekaterina Makarova of Russia 6-3, 6-3
The tournament was inaugurated at the hands of Mr.BSR Shastri General Manager NECC , ACP Smt Sushma Chavan Mr.Sunder Iyer, Hon.Sec.of MSLTA, Mr Ashwin Girme Tournament Director and tennis secretary of Deccan Gymkhana, Mr.Girish Inamdar, General Secretary of Deccan Gymkhana, Mr.Mihir Kelkar, Finance Secretary of Deccan Gymkhana, Mr.Abhishek Tamhane, Secretary of PMDTA, winner of first edition of NECC Deccan Gymkhana ITF Tournament Radhika Tulpule, ITF Supervisor Sheetal Iyyer were present on the occassion.
Following are the results: Singles: First Round:
Irina Khromacheva(RUS) [6] bt (WC)Akanksha Nitture (Ind) 6-1, 6-1
Nigina Abduraimova (UZB) [2] bt Diana Marcinkevica (LAT) 6-2, 6-0
Tatjana Maria (GER) [1] bt Ekaterina Maklakova(RUS)6-2, 6-3
(Q)Gozal Ainitdinova (KAZ) bt (Q)Funa Kozaki (JPN) 5-7, 6-3, 6-2
Ankita Raina (IND)[8] bt (WC)Shrivalli Rashmikaa Bhamidipaty (IND) 3-0(Retirement)
Zhibek Kulambayeva (KAZ) bt Ekaterina Reyngold (RUS) 0-6, 6-2, 7-6(4)
(Q)Eri Shimizu (JPN) bt Ekaterina Makarova(RUS)[5] 6-3, 6-3
En Shuo Liang (TPE) bt (WC)Vaidehi Chaudhari(IND) 2-6, 6-1, 6-1
Daria Kudashova (RUS) bt Ziva Falkner (SLO) 7-5, 6-3
(Q)Tina Nadine Smith (AUS) bt (WC)Vaishnavi Adkar (IND)7-6(2), 6-2;
(Q)Emily Welker (GER) bt (Q)Anastasia Sukhotina(RUS)6-4, 4-6, 7-6(1);
Karman Kaur Thandi (IND) bt Sahaja Yamalapalli (IND) 6-7(6) ,6-4,6-1