Road To Glory: Rohit Sharma's Early Exit, Mitchell Starc's Brilliance Shakes India in World Cup Final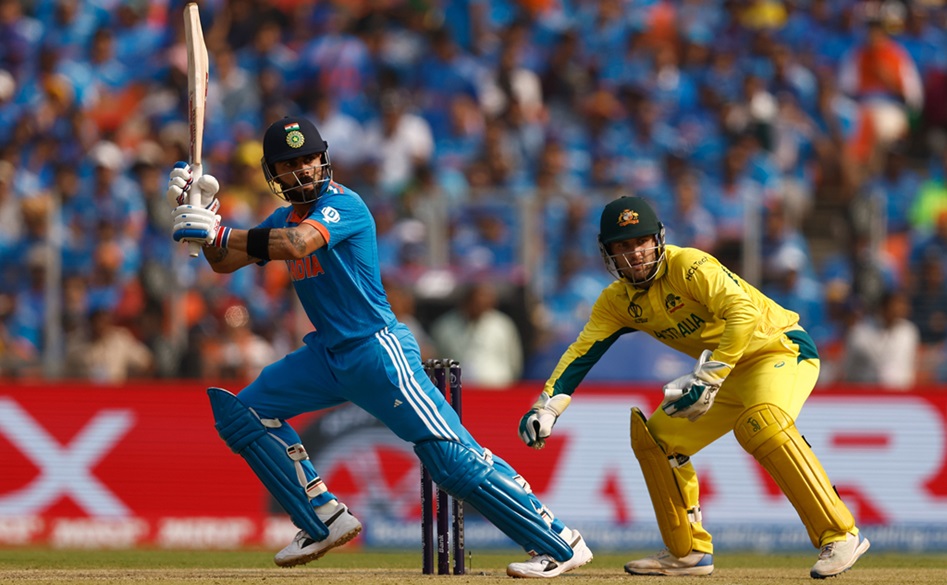 Varad Bhatkhande
Ahmedabad, 19th November 2023: In the thrilling culmination of the 13th edition of the ICC ODI Cricket World Cup, India and Australia find themselves locked in a high-stakes final at Ahmedabad's Narendra Modi Stadium. Following the conclusion of the first inning, where India posted a total of 240 runs in 50 overs, losing all wickets, the stage is set for the impending second inning. Australia, confronted with a challenging target of 241 on wicket-favouring bowlers, must either secure their 6th title or face India's formidable defence to claim their 3rd championship. The eagerly anticipated second inning is poised to commence shortly, adding an extra layer of suspense to this gripping contest.
Before the epic showdown began, the Indian Air Force set the stage with a mesmerizing display in the skies over the stadium, creating an electrifying atmosphere. Australia won the toss and opted to bowl first under the glazing sky, where over 100,000 Indian supporters filled the stadium with a sea of blue, rallying behind their home team.
India, sticking with the same lineup as the semi-final, started their innings with openers Rohit Sharma and Shubman Gill. However, Gill's early departure for just 4 runs in 7 balls, caught by Adam Zampa off Mitchell Starc's delivery, left a dent in India's top order. Despite the loss, Rohit Sharma continued his strong form in the CWC but fell short with 47 runs in 31 balls, caught magnificently by Travis Head on Glenn Maxwell's bowling.
India's powerplay was evenly poised as they scored 80 runs at a run rate of 8.0, losing both openers. Shreyas Iyer's stay ended with a catch behind the stumps by Inglis off Cummins' delivery. However, Virat Kohli stood firm, scoring his 6th half-century of the tournament in 56 balls, providing stability to the Indian innings.
India faced a period of restrained scoring, with no boundaries for 97 balls until KL Rahul broke the dry spell with a paddle swerve against Maxwell. Rahul, along with Kohli, looked set to accelerate the scoring, but Kohli's dismissal for 54 off 63 balls in the 29th over, caught behind by Inglis off Cummins, halted India's momentum.
KL Rahul played a responsible innings, reaching a fifty off 86 balls, but his departure, caught behind Mitchell Starc for 66 in 107 balls, triggered a collapse in India's lower order. Jadeja (9 off 22) fell to a brilliant reverse-swinging delivery from Hazelwood, while Shami and Bumrah succumbed to Mitchell Starc and Zampa, respectively, in quick succession.
As the ball aged, it started to reverse swing, showcasing the pitch's assistance to the bowlers. Suryakumar Yadav, with 18 off 28 balls, attempted to guide India to a respectable total, but his dismissal, caught behind off Hazelwood's delivery, marked the end of India's innings. Kuldeep and Siraj made some contributions, with the innings concluding at 240 runs in 50 overs, all wickets down, and Kuldeep getting run out on the last ball.
In the bowling department, Mitchell Starc led Australia's attack, claiming 3 wickets for 55 runs in his 10 overs. Pat Cummins and Josh Hazelwood took 2 wickets each, while Adam Zampa and Glenn Maxwell secured 1 wicket each.
With a target of 241 runs, Australia is set to begin their innings shortly, aiming for their 6th World Cup title, while India is geared up to defend and secure their 3rd championship. The cricketing world awaits the thrilling conclusion to this historic encounter at Narendra Modi Stadium.