Sahyadri Hospitals in association with Chief Minister's Medical Assistance Cell, Maharashtra State & Rotary International launches 'Mission Prerana' under aegis if 'Mission Muskan'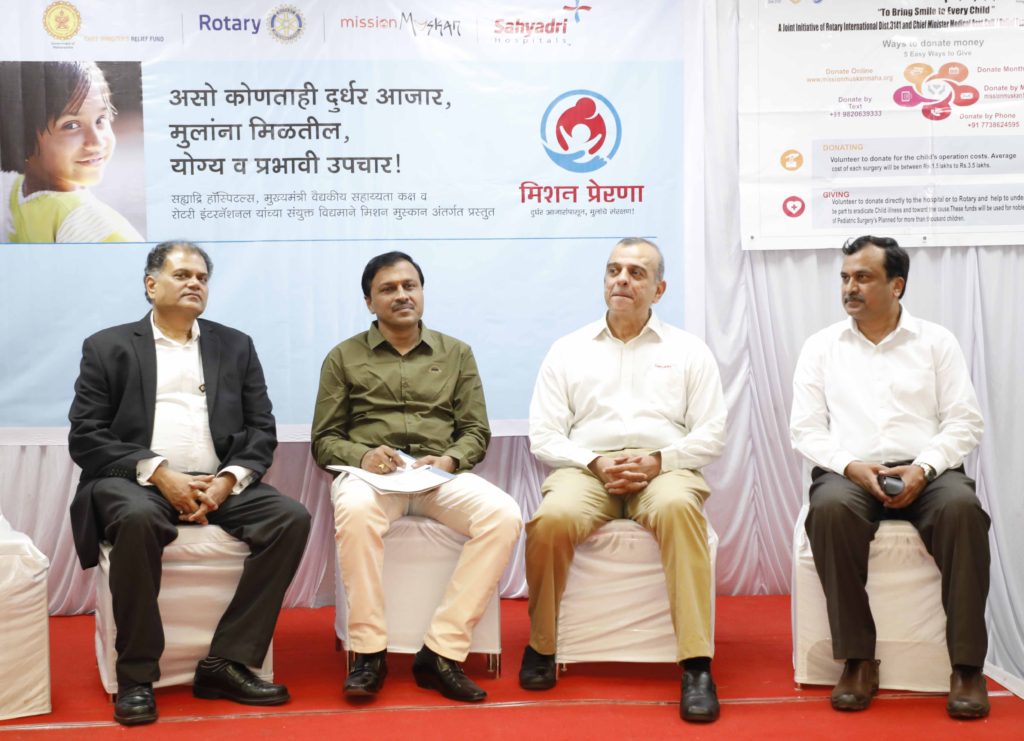 Pune  : With a view to make Paediatric Tertiary Health Care easily accessible for all , Sahyadri Hospitals has   launched   "Mission Prerana" in association with  Chief Minister's Medical Assistance Cell  Maharashtra State &  Rotary International under the aegis of 'Mission Muskan'. Under this ground breaking initiative Sahyadri Super Speciality Hospital Nagar Road has been transformed into a dedicated Paediatric Tertiary Care Unit which will offer end-to-end tertiary healthcare services for Children at Sahyadri Super Speciality Hospital Nagar Road.
"Mission Prerana" was formally inaugurated on 29 September 2018 to mark World Heart Day at Nagar Road Unit in presence of Chief Guest  Shri.Om Prakash Shete, Chief, Chief Minister's Medical Assistance Cell- Maharashtra State,  Mr. Suresh Chokhani-Project Chair -Mission Muskan & Dist. Secretary-CSR, Rotary District 3141 , Dr. Charudutt Apte, Chairman Sahyadri Hospitals , Sudin Apte Coordinator of Mission Muskan in Pune  and Rajesh Sonar Senior Coordinator, Rashtriya Bal Swasthya Karyakram (RBSK) .
Speaking at the inauguration Om Prakash Shete said that no citizen should succumb because of lack of treatment or money and this is our commitment. While the State is making progress in all fields including industrial progress we should not be behind in Healthcare. Mission Muskan is  not just a project  but a movement and we should all come together to help the needy.
Dr Charudutt Apte, Chairman, Sahyadri Hospitals said that few years back  Sahyadri Hospitals had come forward in accepting Government Health Scheme for poor and has treated more than 4000 patients ( performed more than 3000 adult cardiac surgeries, 500 Paediatric Cardiac Devices & 500 Paediatric Cardiac Surgeries, for the underprivileged. The Group is also instrumental in establishing an NGO under the name of 'SAMAVEDANA' in the year 2003. This NGO has been set-up for the treatment of poor patients with specialty ailments. The idea is to project is to set up Sahyadri Nagar Road Unit as a  Centre for excellence for Tertiary Care Paediatric services- a one stop destination for all high end & complex surgeries for Children. Under 'Mission Prerana', with help of Rotary International &  Chief Minister's Medical Assistance Cell and Rotary International' s Mission Muskan Project, Sahyadri Hospitals would be supporting the underprivileged children, and making complex treatments like Cardiac Surgeries, Epilepsy surgeries, Liver Transplants,Bone Marrow Transplants easily accessible.
Dr Sunil Rao,COO Sahyadri Hospitals said that the state of the art unit at Nagar Road will be a Center of Excellence  for Paediatric Cardiac Interventions & Surgeries, Epilepsy Surgeries, Haematology (Bone Marrow Transplants), Paediatric Liver Transplants. The infrastructure will include 130 bedded Multispeciality Tertiary Care Hospital with  level III Care –NICU attracting referrals from all over Maharashtra and a dedicated Neonatal Ambulance. The Center of Excellence will include a dedicated team of Paediatric Cardiac Specialists, Paediatric Surgeons , Transplant specialists, Epilepsy Specialists amongst others including trained nurses and staff .
Speaking about the new initiative Dr. Pankaj Sugavkar, Pediatric Cardiologist  Sahyadri Hospitals  said that while the incidences of heart ailments in small children remains the same , the number of children with heart ailments coming for treatment have increased because of increased detection rate . This has been possible due to developmental issues like technological advancement, availability of manpower which has enabled us to diagnose any issues at the earliest age . While in rest of Maharashtra lack of infrastructures and technical processes leads people to come to cities like Mumbai and Pune for tertiary care , as a pioneer in this  initiative we felt it necessary to have a dedicated unit and take this cause as a mission . People from at least 10-12 districts in Maharashtra especially Marathwada stand to benefit from this mission.  This mission will encompass not only an individual entity but all stakeholders like NGOs , Child Welfare organizations , State Government with a single aim of treating small children who need treatment at the earliest.
The Medical Team of 'Mission Prerena' includes Dr. Pankaj Sugaonkar-Paediatric Cardiologist,Cardiac Surgeons Dr. Rajesh Kaushish, Dr. Sandeep Tadas & Dr. Manoj Durairaj, Dr. Mahendra Bafna;  Dr. Shantanu Shastri-Cardiac Anaesthetist; Haematologists Dr. Shashikant Apte & Dr. S. Kannan;  Dr. Pranav Jadhav-Paediatric Surgeon,Neonatologists Dr. Pradeep Suryawanshi & Dr. Jaleel Mujawar, Dr. Amit Dhakoji – Epilepsy Surgeon, Dr. Bipin Vibhute-Liver Transplant Surgeon & many other Specialists.