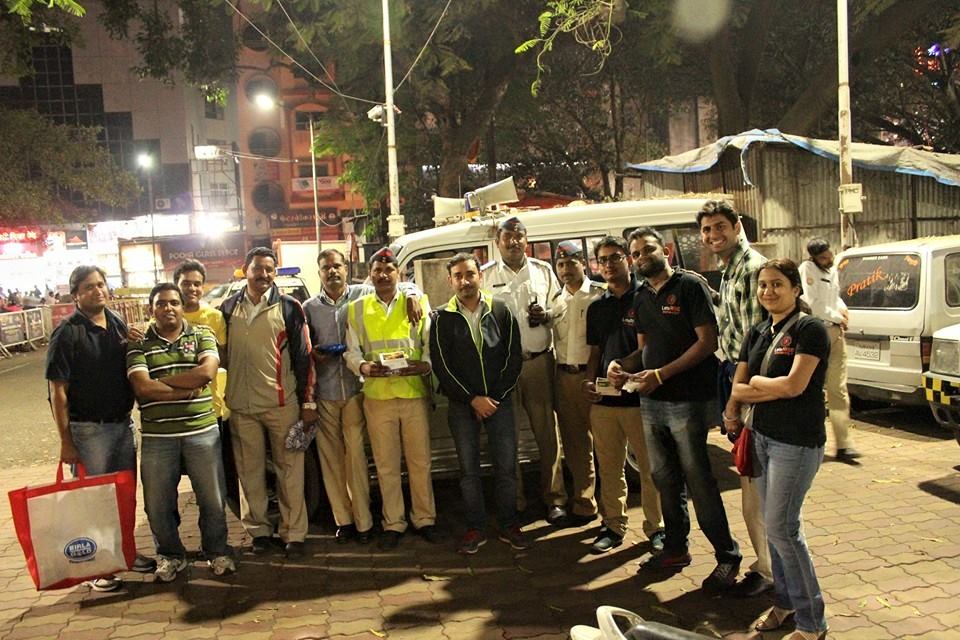 PUNE, India : Punekars were busy shopping for Dhantarus or planning Diwali festivities with their families. But there was a dedicated bunch of RTO and Pune Police working towards citizen's safety and PMPML staff on-duty carrying citizens. Global Shapers Pune salute their dedication and professionalism in recognition to their extraordinary commitments towards citizen's safety this Diwali. Through 'Shaper's Salute' initiates, volunteers of GSC Pune hub and LetsRise presented gifts and Salute cards to all the RTO police on duty at Dagdusheth Ganpati road, Laxmi road junction and Deccan Bus station.
It was a wonderful experience to see the Police on duty smile with this sudden pleasant surprise. "We have always been spending our Diwali on roads. Mostly Police hear negative reactions from citizens. But we are glad to have received this positive token of appreciation. You guys had made our day", said Officers on duty.
GITS Food Ltd sponsored 100 packets of ready-to-cook food and LetsRise volunteers sponsored 50 flasks and Diyas wrapped in paper bags by EcoAd. Citizens passing by also shook hands with volunteers and said "It's a good initiative. We have taken Police officers for granted. Now we realize that when we are with our families they too would wish to spend time with their family."
We got into the buses when it stopped at bus bay and thanked the bus conductor and bus drivers. Best part was all the passengers started clapping when we did this. We saw lots of smiles as part of this campaign.
The Global Shapers Community is an initiative of the World Economic Forum – an independent, not-for-profit international organization – to engage young people and help bring fresh ideas and innovative, entrepreneurial solutions to some of the most pressing global challenges.
‪#‎diwali‬ ‪#‎happydiwali‬ Global Shapers Community- Pune Hub
Follow Punekar News: