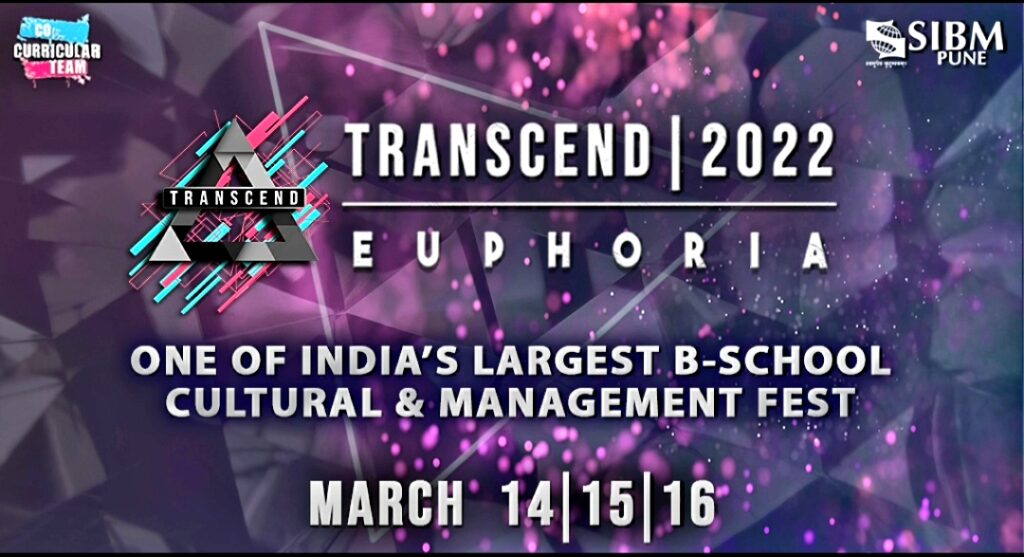 Pune, 3rd March 2022: Symbiosis Institute of Business Management (SIBM), Pune is back with the latest edition of the annual management & cultural fest, Transcend, one of the largest B-school fests in India. In the previous years, Transcend has hosted prominent names such as Benny Dayal, Anubhav Bassi, Nishant Suri, Alia Bhatt, Mohit Chauhan, K.K., Mohit Chauhan, Divine, Sunburn, etc. on Campus. Transcend was crowned as the '9th Most Popular B-school Festival' by Dare2Compete in the year 2020.
Transcend 2022 is scheduled to be held on the 14th, 15th & 16th of March 2022 at SIBM Pune's beautiful Lavale hilltop campus. Over the years Transcend has seen massive participation from B-schools all across the country like IIMs, XLRI, NITIE, SPJIMR, NMIMS, etc.
SIBM Pune takes a holistic approach to education, encompassing both academics and other cultural pursuits with the vision of "enabling people to lead remarkable lives thereby transcending the world to a better place." With this in mind, the theme of 'Euphoria' is weaved throughout this year's Transcend, evoking a state of intense excitement and passion for the people behind the scenes, the artists and celebrities who steal our hearts, and the enthusiastic participants who keep coming back each year for more.
The official launch of Transcend 2022 began with an exuberant start in February 2022, with a stand-up comedy performance by Sahil Shah. The talented stand-up comic gifted with great stage presence rose to fame as one of the founding members of the prestigious East India Comedy troupe. The crowd was enthralled by his set and on-stage antics, especially his delivery style of punchlines and audience engagement. As a pre-buzz event for Transcend, the Co-Curricular Team of SIBM Pune organized a Bonfire Night wherein students sat under the stars and enjoyed beautiful baritones, singing and swinging with the tunes of winds.
The Fest attracts those who sail in for an extravaganza unlike any other. It has grown into a melting pot of intellect and culture from prominent institutions around the country during the last three decades. This year's Transcend edition has 9 top-notch national management events as well as 5 amazing cultural competitions. Transcend's Flagship event, Last Man Standing has the highest prize money offered across any B-school competition, worth INR 1.5 lacs. Transcend offers a single platform of management & cultural events which tests the mettle of students in a holistic approach. Transcend also has a rich history of association with a plethora of corporates, namely, IKEA, March & McLennan Companies, JIOSaavn, Coca Cola, AB InBev, Canara Bank, Audi, Mercedes, Uber, Britannia, Mother Dairy, Paytm, etc.
This year again, Transcend 2022 has been associated with well-reputed brands like TSTA App, Moj, JAWA Motors, BrewHouse, Coolberg, Frescia, PeeSafe, and Safexpress among others. The co-curricular Team of SIBM Pune is planning to take Transcend 2022 to greater heights.