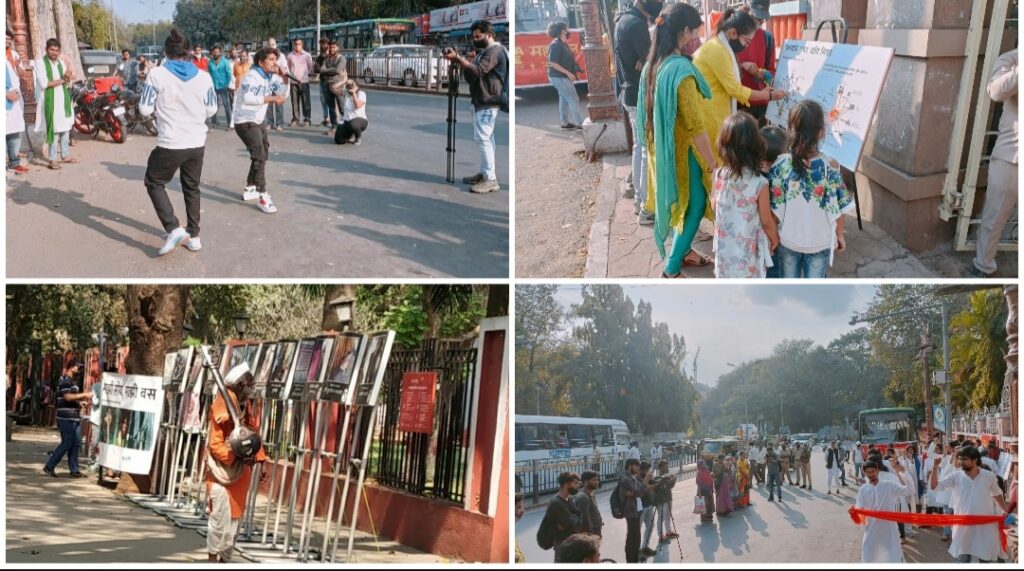 Pune, 3rd March 2022: City-based NGO Parisar organized a "Pune Bus Yatra" event to raise the demand for the city to have at least 50 buses per lakh population
As part of this unique event, bus users, service providers, experts, celebrities and decision-makers came together for a clean, green Pune. Through different activities and performances, the importance of a quality bus-based public transport was highlighted.
On March 2nd, Punekars came together at Ambedkar Udyan and JM Road to demand #LakhKo50 buses for Pune i.e. for every lakh population there should be 50 buses. Currently, for a population of 70 lakhs for the Pune Metropolitan Area served by PMPML, it has a fleet of 2100 buses of which about 1400 are on-road. However, to meet the basic 'Lakh ko 50' standard, the city needs at least 3500 buses. This increase in fleet and subsequent improvement in services will benefit lakhs of city folks who rely on buses for their daily commute. It will also take private vehicles off the road, thereby reducing congestion and pollution.
Reminiscing about his school days, Aroh talked about the importance of buses for students. "During school time, I could only afford buses for commuting, and I understand in what difficult situations students travel in buses. I hope that just like London, which has a whopping 100 buses per lakh population, Pune will also have a good quality fleet." Aroh was at Ambedkar Udyan to support the demand and throw his weight behind the campaign.
Buses are the lifeline of a city and the mode of the maximum. Despite the extraordinary significance of buses for the environment, economy and the city, they are neglected. Despite the overwhelming presence of the commuters, they are invisible. Through this event, a few commuters shared their stories of daily commute in PMPML buses. From overcrowding to infrequent buses, from no proper information to inadequate bus infrastructure, commuters shared the many challenges they face, and also the solutions they seek. Talking about the Bus Yatra, transport expert Pranjali Deshpande said, "I wish everyday commute could be like today, where one easily gets a seat, talks to fellow commuters, and explores the city. This can be made possible if Pune has at least 50 buses per lakh population."
At the Ambedkar Udyan, there was a street play by Swatantra Theater Group while Vipin and Tejas from Rap Toli performed an enthralling 'Bus Rap'. At JM Road there were exhibitions by Sarg Studio showing how a well-designed bus system can look like, photographs by Abhay Kanvinde to which people added captions, a photo story on gender and public transport by Samyak Communication Centre, and a vyang-chitra exhibition by artist Rawasgiri.
"We want to show commuters how a well-defined bus system could look like and why Pune's bus transport network is in dire need of it. After our design project at Deccan bus station, we hope to implement way-finding and signages for the entire city" said Yogesh Dandekar from Sarg Studio who exhibited models and posters at JM Road.
More than 800 bus commuters signed demand cards supporting the need to increase PMPML's fleet. These demand cards will be compiled, analyzed and shared with PMPML by Parisar. Speaking about the event and the campaign Ranjit Gadgil, Program Director of Parisar said, "We hope that commuters come together to demand better bus services, and the state government recognises that a basic bus system is an obligatory function. This will ensure that there's sustained funding and policy support for buses which are fundamental for every city."