Sinhgad Institute's RocketAPJ bags 5 awards at Spaceport America Cup 2019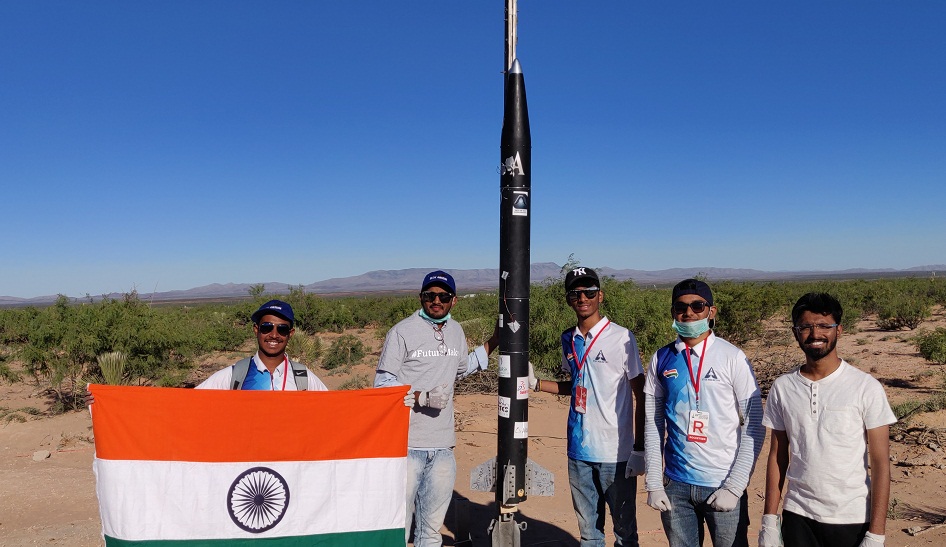 Pune, July 20, 2019 : The Rocketry team of Sinhgad Technical Education Society (STES) has returned from the USA after winning laurels at the Spaceport America Cup 2019.
The world's largest intercollegiate rocket engineering competition was held at Las Cruces, NM Convention Centre and the Spaceport America Vertical Launch Area from 17 to 22 June 2019. The STES team received various awards and recognitions which includes two on the spot awards; 'On Spot Recognition Award' from different judges for being technically strong, 'Social Media Award' for Team's Social Media handle on Instagram and Facebook, 'Ductus Exemplo Award' for Team Leadership and 'Cognita Per Experientiam Award' for operating using safety equipment all the time.
The team of 30 budding engineers from Sinhgad Institutes, a bright young group of under graduate rocket enthusiasts faced very stiff competition from some of the finest rocketry teams from top notch colleges of the world like MIT, Caltech and Stanford University to name some.
Prof Dhananjay Khankal working as faculty advisor for the team, led by student team captain Shubhendu Kurmude and vice captain Rohit Bansode, motivated by Dr SD Lokhande, Principal Sinhgad College of Engineering, Pune, made the country as well as their college proud at international level with successful launch of their Rocket APJ named after former President late Dr APJ Abdul Kalam, as tribute to India's missile man.
The aim of the competition was to launch a sounding rocket to an altitude of 10000 feet or 30000 feet apogee and recover it back. Rockets are judged on flight accuracy. Stringent judging criteria include project concept, design, implementation, flight performance and successful recovery, payload innovation and functionality and professional conduct and use of procedures.
STES rocketry team designed and inculcated a functional payload into their sounding rocket APJ 2.0. Functional payload consisted of Vibrational Damper using a Magneto Rheological fluid which changes its viscosity along with change in magnetic field.
The team successfully launched their sounding rocket APJ 2.0 on 21st June 2019 and also recovered their sounding rocket using on flight GPS tracking system. After receiving the on-flight data, it was concluded that the sounding rocket APJ 2.0 reached an altitude of 9909 ft just 91 ft short of 10000 ft. Team scored 749 points overall and secured an amazing 29th rank out of 125 teams participating from 14 different countries across the globe.
Team captain Shubhendu Kurmude said, "We have proven our unique capability at the global stage, competing with the best teams in the world, by successfully launching our Rocket APJ 2.0 with scientific payloads crossing over 9,900 ft into space and also successfully retrieving our rocket. This is a huge step for us, a great achievement as only our team from India was able to send rocket which crossed the 9,000 ft trajectory into space. But its also only just the beginning as this is the second year we are competing and we are improving year on year."

STES Rocketry team had participated in SA Cup 2018 last year and their Rocket APJ 1.0 had set the skies ablaze at Las Cruces, NM Convention Centre and the Spaceport America Vertical Launch Area receiving one 'On the Spot Recognition' award. In 2019, the team brought home total of 5 awards including 2 on the spot awards.
Speaking on the occasion, Rohit Navale, vice president of Sinhgad Institutes, added, "Sinhgad Institutes is known for providing students flexibility and a valuable space to work together to solve complex challenges within an innovative and collaborative environment thereby going beyond just classroom learning. Besides obtaining global awards and recognitions, our aim was to have a team that's open across the engineering colleges of Vadgaon campus to combine the different skills and perspectives of a diverse team. STES Rocketry team is not just about aerospace only. It's about bringing multi-talented budding engineers together on a global stage. It's been an incredible journey for STES Rocketry team. I congratulate the team, they have done very well and we are sure that the day is not far when we will be World Champs in Rocketry competition."
The team was sponsored by Arus MR Tech, Vikarsh Stampings India Pvt Ltd, travelling partner – Kunal Tours and Travels and Freight partner – Flomic freight and courier services.
Follow Punekar News: