SOUTHERN COMMAND TERRITORIAL ARMY BANNER PRESENTATION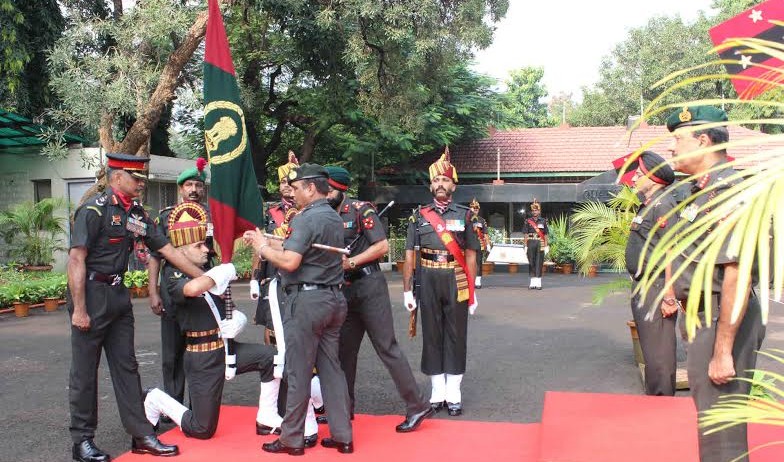 Territorial Army Banner presentation ceremony was held at Headquarters Southern Command on 26 October 2015, during which 108 Infantry Battalion (Territorial Army)  MAHAR was awarded 'The Southern Command Territorial Army Banner' by Lieutenant General  Ashok Singh, PVSM, AVSM, SM, VSM, ADC, General Officer Commanding-in-Chief Southern Command.  Southern Command Territorial Army Banner was instituted in 1956-57 which is awarded to an Infantry Battalion (Territorial Army) selected as the 'Best Infantry Battalion (Territorial Army)' in recognition of outstanding operational performance, high training standards,  sound administration and performance in various sports and technical competitions every year.
Territorial Army has had a distinguished history and has been performing yeoman service to the nation across the entire spectrum of military operations. Territorial Army has transformed into a  'well-motivated and trained force' providing indispensable support to national security apparatus including departmental units which support the national effort in ensuring rail communications and oil and natural gas refining and supplies in any adverse contingency.  Ecological Task Forces have been addressing the environmental concerns in their assigned areas on a war footing and have achieved commendable results.
In the continuation of this saga of valour and glory, 108 Infantry Battalion (TA) MAHAR has an envious track record.  The unit was raised at Jodhpur on 01 October 1960 as a provincial unit affiliated to the Rajputana Rifles.  Subsequently on 01 April 1966 the Unit was affiliated to the MAHAR Regt. For its outstanding performance during year 2013-14, the Unit had been adjudged as the 'Best Territorial Army Unit' and was deservedly awarded the "Chief of Army Staff Silver Trophy" during Territorial Army Day Parade at Delhi in October 2014.  The Unit has been recipient of General Officer Commanding-in-Chiefs' Territorial Army Banner five times in the past also.  The Battalion has done selfless service while serving in Jammu and Kashmir during its last tenure and earned a niche for its operational efficiency and won 'hearts & minds' of locals in its Area of Responsibility.