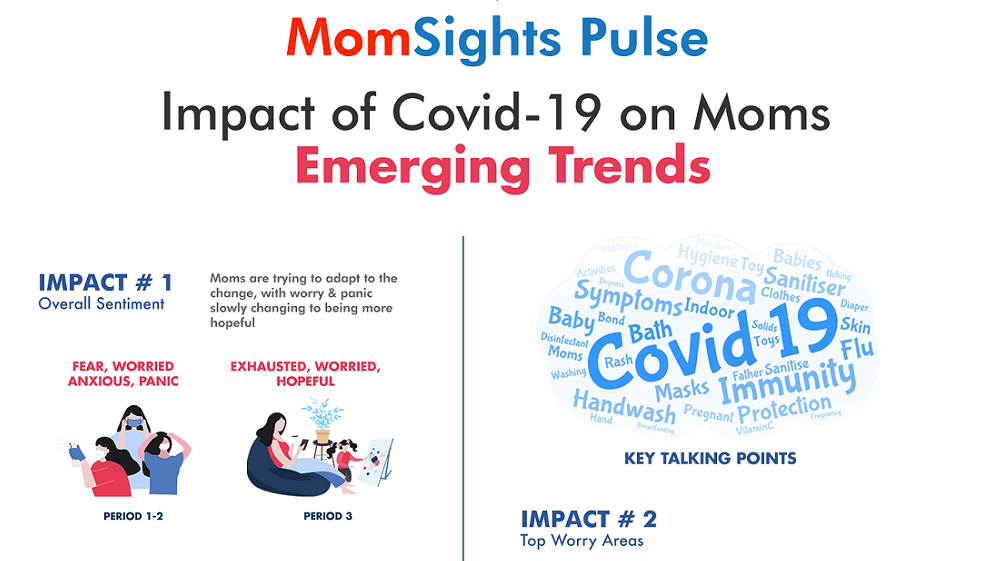 Pune, May 9th, 2020: Momspresso.com, India's largest user-generated content platform that allows women to express themselves through different formats including text, audio, and video across ten languages, has been introducing several campaigns to keep moms and kids engaged and entertained during the lockdown period. If we take a closer look at the mums of the country who are caring for children and their family amidst these uncertain times, it becomes important to understand what they are going through and how has COVID-19 impacted their interaction with their surroundings at large.
And in order to understand this better, MomSights – Momspresso's research and insights division is conducting the Covid-19 Weekly Tracker for 6-8 weeks. Some trends have emerged from the first 3 weeks of lockdown – majority of moms have adapted to the new normal. While stress and anxiety were major sentiments in the first 2 weeks, this week has witnessed moms feeling hopeful. However, since they have been managing everything at home, moms are now exhausted.The third-week survey was conducted among 500 moms across the country, from cities such as Delhi, Mumbai, Chennai, Bangalore, Pune, Kanpur, Jaipur, Bhopal, etc. Going forward, Momspresso.com intends to survey over 3000 moms through its COVID-19 tracker over the next 6-8 weeks.
Speaking on the study, Prashant Sinha – COO, Momspresso.com, said, " The world is changing post-Covid at a very rapid pace and so is the consumer behaviour – and therefore, the brands want to know what the consumer is feeling and how are they reacting to situations in these unprecedented times. It is pertinent for brands to be in the know-how of the consumer and have easy access to the pulse of their behaviour. We are helping  brands not just to understand consumers but also developing content around the same. "
In the third week of the lockdown, mom's stressors have remained similar to the first two weeks. While 74% of moms are worried about keeping everything sanitized, 57% are concerned about keeping their kids busy during this lockdown. Kids' health remains the topmost stressor for moms as 78% are worried about their kids getting sick amid the lockdown. Screen time is a growing  concern for moms.
On the brighter side, a majority of moms have mentioned that they have a renewed appreciation for spending time with their family and an increased value of life. They are also realizing the importance of a healthy lifestyle, a positive outlook, and me time. Post-lockdown, they plan to continue living a healthy, disciplined life, check their spending habits, and plan finances better.
Panic buying and stocking up on essentials were rampant in the first two weeks of the lockdown. In the third week, however, moms have a sufficient stock of staples at home. However, spending on tea/coffee, biscuits, breakfast cereals, and snacks has gone up slightly as more time is spent at home. Since visiting a doctor is not feasible, moms are stocking up on medicines as well.
For all their pantry items, moms are sticking to their usual pre-lockdown brands and not splurging on premium ones. While the demand for sanitizers, handwash, and other cleaning products has increased this week, moms are buying whichever brands are available in their nearby store.
Neha Gahlaut – Head, Momspresso MomSights said, "During this lockdown, moms across the country are taking care of kids, family, household chores and office work. Hence it is important to understand what moms are going through and how they are feeling, on a continuous basis. Thus, leveraging MomSights, we aim to keep a track of their state of mind, their purchase behavior, and the content that they are consuming, over the next few weeks. We have endeavoured to give that opportunity to a multitude of brands who are accessing this info and benefitting from it."
In another important part of the study, Momspresso.com aimed to find out how moms are leveraging digital platforms during the lockdown. According to the third-week results, there has been an increase in the use of apps like Instagram, YouTube and Pinterest.  Just like the first two weeks, moms are relying more than ever on Whatsapp to connect with their friends and family and ensure their well-being. Further, OTT platforms such as Hotstar, Netflix, Amazon Prime, etc. have also witnessed a surge in demand as a way for families to binge and bond. Moms are increasingly watching videos related to art and craft projects for kids, new recipes for cooking and yoga, workouts and meditation videos to stay healthy amid the lockdown.
Momspresso.com is India's largest user-generated content platform for women. The finely-brewed content on Momspresso.com offers support to moms across the country, not just in their journeys as parents but also in their lives as wives, daughters, and – most importantly – as women! Launched in 2010, Momspresso.com is based out of Gurgaon, Haryana.