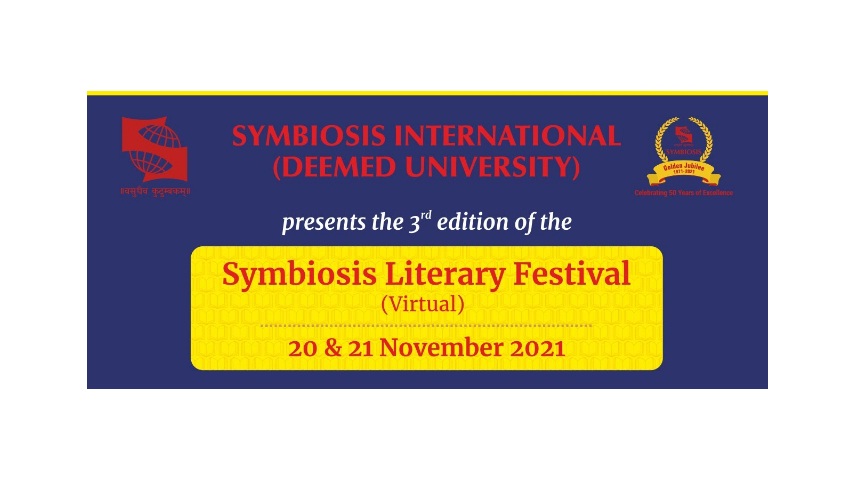 Pune, 17th November 2021: The Year 2020-21 is the "Golden Jubilee Year of Symbiosis".  Symbiosis is organizing a "Literary Festival 2021" (Virtual) from 20th to 21st November.  
At the festival, elite speakers from varied sectors are Invited who will talk about their opinions and thoughts and will put forward the ideas on the current activities in India.
On Saturday, 20th November at 10:30 am Inaugural ceremony of the "Lit Fest" will take place. Javed Akhtar, Poet, Lyricist and Screenwriter is invited as the Chief Guest for the Function. 
Dr SB Mujumdar, Founder & President of Symbiosis will preside over the function. Dr. Vidya Yeravdekar, Pro Chancellor, SIU and Dr. Rajani Gupte Vice Chancellor, SIU will also be present for the ceremony.  
After the Inaugural Ceremony, from 11:00 AM to 12:00 noon there will be a Panel Discussion on the topic "Decoding China from Tiananmen to Galwan". Amb. Vijay Gokhale, Amb. Gautam Bambawale and Ganesh Natarajan will participate in the discussion.
At 12:15 PM to 01:15 PM there will be a Book Reading & Discussion: Raising a Humanist Conscious Parenting in an increasingly Fragmented World written by Dr. Manisha Pathak Shelat.
Chef Sanjeev Kapoor, Dr. Kurush Dalal, Saee Koranne- Khandekar, Dr. Howard Rosing are invited for a Panel Discussion on the topic "Food in the Times of Corona" timing for the same will be 1:45 PM to 2:45 PM.
Book Reading & Discussion of Raj Kapoor- The Immortal Master at Work (forthcoming) written by Rahul Rawail is scheduled from 3:00 Pm to 3:45 PM.
Book Reading & Discussion – Diversity Beyond Tokenism: Why Being Politically Correct Doesn't Help Anyone written by Swati Jena and T N Hari will take place from 4:00 PM to 4:45 PM.
From 5:00 PM to 5:45 PM a Panel Discussion is organized on Children's Literature where Geeta Dharmarajan, Tara Books (Ragini Siruguri) and Varsha Seshan will participate.
Day two, on Sunday 21st November at 11:15 am to 12:00 Noon there will be a Book Discussion: The Great Hindu Civilization: Achievement, Neglect, Bias and the Way Forward written by Amb. Pavan K. Varma.
A Panel Discussion on Finding New Audiences: The Role of the Internet in Indie Music will take place from 12:15 PM to 1:15 PM where Easy Wanderlings (Sanyanth Naroth and Sharad Rao), Tushar Mathur, feathers in Space (Radhika Mohite and Darren D'Souza) will participate.
From 1:45 PM to 2:30 PM in Conversation with Dhruv Sehgal on the topic Representing Modern Love in the Digital Age.
From 2:45 pm Book Reading & Discussion – Reluctant Technophiles: India's Complicated Relationship with Technology is organized which is written by Dr. Rakesh Kumar.
Lit Fest 2021 will conclude with another Book Reading & Discussion- "Piece of War: Narratives of Resilience and Hope" the timing for the same will be 3:45 pm to 4:30 PM.
To attend the Lit Fest 2021 by Symbiosis,
Register in advance: 
https://zoom.us/meeting/register/tJEsfuqtrDwpGd0TkI2HzNuhTTVtjucOxy53
YouTube Live Streaming URL:
Nov 20th,2021 (Day 1)
Nov 21st, 2021 (Day 2)
ADVT