Team Air Force beat Armd Corps; bags udChalo Armed Force Cycle Polo cup 2023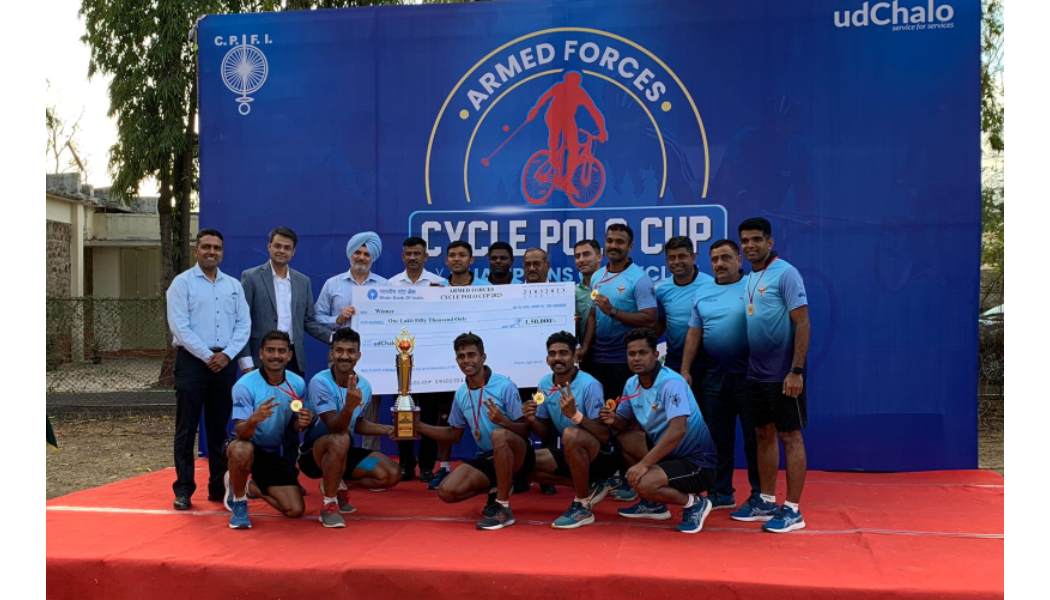 Ahmednagar, 22nd March 2023: The Armed Forces Cycle Polo Cup 2023 sponsored by udChalo, concluded on March 21, 2023 with a captivating final match played between Indian Air Force and Armd Corps. Team Air force beats Armd Corps with a thrilling 19-4 win claiming the winning trophy for themselves. The three- day tournament witnessed a high level of competition between three teams – Territorial Army, Indian Army and Indian Air Force. The winning trophy was handed over by Mr Gajanan Burde from Cycle Polo Federation India in presence of notable guests Maj Gen ARS Kahlon, VSM, Ravi Kumar Founder & CEO of udChalo.
The Armed Forces Cycle Polo Cup was organized by Cycle Polo Federation of India and the armed forces to showcase their best skills and prepare them for the upcoming World Bicycle Polo Championship. This year champion team received a prize money of 1.5 lacs along with the udChalo Armed Force Polo Cycle trophy. The selected players from this match will be a part of Indian team for world championship. The World Cup for Bicycle Polo Championship takes place every four years with last match played in 2019 in Argentina. India leads the global tally by winning 6 Gold and 2 bronze medals in the 8 Cycle Polo World Cup in which it has participated.
JWO Vishnu S, the captain of the winning Air Force team said, "We are extremely overjoyed and proud of our team's performance in all the matches, especially in the final match. We look forward to becoming a part of Indian team competing for the world championship trophy".
Lt Col Bharat Pannu, the event manager of the Armed Forces Cycle Polo Cup 2023, said, " The matches played in this year's tournament witnessed some electrifying performance by many players.It was a pleasure to work with all the teams and players who displayed great sportsmanship and skill throughout the tournament. We hope to continue growing the sport of cycle polo in India and bringing more exciting events like this to fans around the world."
Mr KK Soni, chief official from Cycle Polo Federation India, said, "Cycle Polo is a fast-paced, high-energy sport that combines the agility of horse polo with the speed and intensity of cycling. It's an exciting and physically demanding sport that requires skill, precision, and teamwork. Ahmednagar, for the first time will be experiencing this unique sport. We are looking to support the growth and development of the sport in our nation and look forward to a successful season ahead. I wish all the best to the winning team."
Mr Ravi Kumar, Founder and CEO of udChalo, said: "It's been an incredible experience to witness the power of sports bringing people together. The Armed Force Cycle Polo Cup 2023 has been an unforgettable event, and we're proud to have been a part of it. Congratulations to all the teams and players who participated, and to Lt Col Bharat Pannu and his team for organizing such a fantastic tournament."
The tri-series tournament lasted for three days, from 19 March to 21 March 2023, and featured a total of seven matches. The teams was led by world-renowned cyclists like JWO Vishnu S, LD Piyush Kumar Sinha and Sep Sanofar. udChalo, a leading Consumer Tech Pvt Ltd that exclusively services the defence fraternity of India is the official sponsor of the Armed Forces Cycle Polo Cup 2023. udChalo is dedicated to the motto of making life simpler for the soldiers. Through this association, the brand aims to promote the sport of Cycle Polo in national and international competitions.