This Housing Society In Pune Cuts Down Common Facilities Power Bill By Rs 90,000 Per Month With Help Of Rooftop Solar Power Generation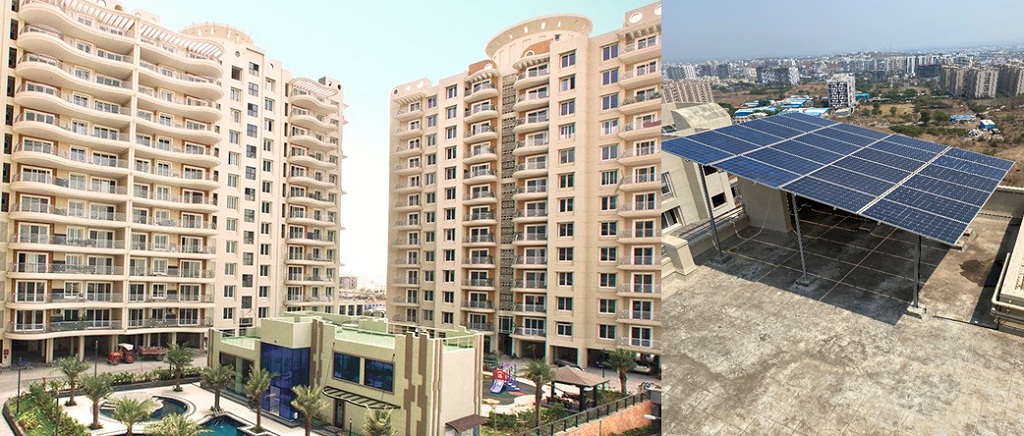 Undri, 6th April 2022: Nyati Windchimes, which is a 200-apartment society at Undri, Pune, installed 45KW of rooftop solar power generation panels between 2017 and 2019 resulting in a generation of 200 units of green electricity per day.
The common facilities' energy consumption is quite high at Windchimes due to heavy running loads of a RO plant (since 100% water is through tankers), 24/7 running sewage treatment plant, 10 elevators across 5 buildings, swimming pool filtration and street lighting and the average monthly electricity bills were in the range of Rs. 3.5 lacs.
After an initial hesitation in going for the solar investment, the residents agreed in 2017 to start with the first system of 20 KW. Subsequently, two more phases were implemented with 15KW and 8 KW systems taking the installed capacity to 45 KW. The total investment in the 3 phases was around Rs. 31.0 lacs and the estimated payback is around 4~4.5 years since our per unit grid tariff was at the highest slab of Rs. 15/unit due to the consumption of over 1000 units/month on each of the meters, says the WC Chairman, Avinash Kapoor.
"The net metering has helped as we are able to get the benefit of the lighting load also. However, before implementation, the managing committee carried out a study of hour-by-hour daily consumption on each meter so as to do a proper sizing of the system. This was to avoid the excess generation going to the grid before the net meters were installed (which takes many months). We also shifted some day loads on this meter so that all the generation was consumed.
The solar generation has helped us reduce the consumption slab on our MSEB meters and hence this has contributed to the bill amount reduction. The primary maintenance requirement for rooftop solar systems is monthly cleaning of the solar panels to maintain generation efficiency, checking cabling terminations (which may get corroded due to weather elements) and the health of the invertor."
The green solar power generation has also helped Nyati Windchimes to move towards being a greener society. Apart from this, to improve the environmental footprint, a team of volunteers from Nyati Windchimes led by Shyam Khante and Kaushal Gupta has developed a Miyawaki forest on both sides of the road leading to the society. The contribution to this effort has been totally voluntary and this activity has been on for the last 5 years, with around 7000 trees planted in the area.
Arrangements have been made to use the Windchimes STP treated water to grow these plants. The forest has now become self-sustainable with many birds making it their home. Windchimes have also put several nests on their trees for small birds so as to increase the sparrow population.
Join Punekar News Whatsapp Group, Telegram, Instagram And Twitter  For Regular Update about Pune City And Pimpri-Chinchwad