This Pune start-up offers 15+ essential healthcare products at 40% cheaper than any online or retail store!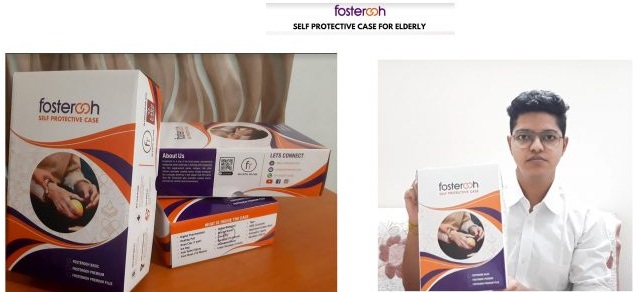 Pune, 22 July 2020: Durgesh Naregalkar an MBA (I&E) student from the batch of 2019- 2021 created his start-up named "Fosterooh" in Dec 2019. His first product "The self-protective case" is scheduled to be launched on 26th July 2020 in Vadodara. This product is for Senior Citizens. 
It is an all in one kit for seniors having 15+ essential healthcare products which are on an average 40% cheaper than the e-commerce and retail stores without compromising the quality of the products. This was possible by designing a highly effective logistics and supply-chain with excellent control of inventory.
Fosterooh has officially collaborated with Kadji Care which is a premium class assisted living facility in Vadodara. They will be the partner for Fosterooh.
FOSTEROOH – SELF PROTECTIVE CASE is available in 3 variants
1. Fosterooh Basic
2. Fosterooh Premium – Fosterooh Basic + Oximeter
3. Fosterooh Premium Plus- Fosterooh Premium + BP Monitor
Items in this Kit includes 15+ essential healthcare items in the category of Surgical, Inflammatory and protective care items like – Pain Relief Gel, Crepe Bandage, Oximeter, Antiseptic Liquid, Blood Pressure Monitoring Unit, Face Masks, Heating Pad, Sanitiser, Knee Cap, Absorbent, Cotton Wool, Ice Bag, Pain Relief Spray, Iodine Ointment, Alcohol Swab, Clove Oil, Bandage, Absorbent Gauze, Tape, and ORS
FOSTEROOH also offers services which include routine health check-ups, Pathological health check-ups whenever requested by senior citizens. These services are offered at highly competitive rates.